Slow Cooker Beef and Ale
by
, October 15, 2017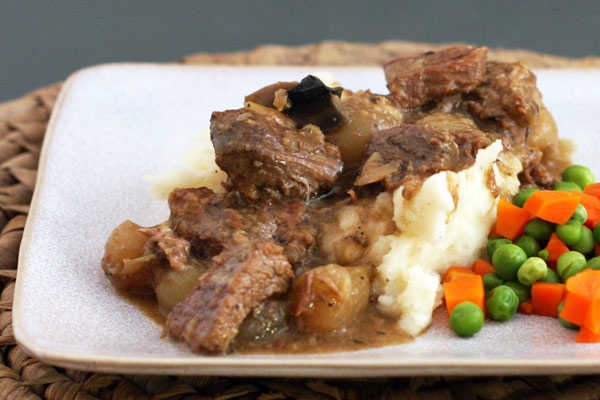 This easy beef and beer combination includes mushrooms and onions along with some fresh or dried thyme. Use cubed stewing beef or a lean chuck roast in the recipe. The beef and gravy are excellent with mashed potatoes, noodles, or rice.
Related:
Slow Cooker Shredded Beef With Beer BBQ Sauce
Prep Time: 12 minutes
Cook Time: 8 hours 10 minutes
Total Time: 8 hours 22 minutes
Ingredients:
Instructions:
Pat the beef dry with paper towels and cut it into 1/2-inch to 1-inch pieces.
Combine the 1/4 cup of flour, salt, and pepper in a food storage bag or bowl. Add the beef cubes and toss to coat.
Heat the oil in a skillet over medium heat. Add the beef and cook, stirring, for 4 to 6 minutes, until browned. Transfer the beef to the slow cooker and add the sliced onion, mushrooms, minced garlic, thyme, ale, and beef stock.
Cover and cook on LOW for 8 to 9 hours.
Remove the beef and skim excess fat from the juices. Pour the juices into a medium saucepan. Cook over medium heat for 3 to 5 minutes, until reduced slightly and the flavors are concentrated.
Combine the 2 tablespoons of flour with 2 tablespoons of water and stir until smooth. Stir the flour mixture into the juices and heat until thickened. Add the beef and heat through.
Makes 6 servings.
Site Search