Sloppy Joe Meatball Subs
by
, October 28, 2017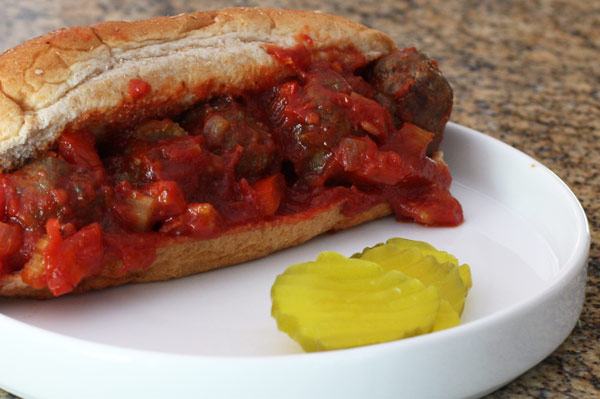 These tasty meatballs are made with a delicious sloppy Joe style tomato sauce. The recipe is easily doubled, and it makes a great dish for a party. Serve them hot from a slow cooker and have guests assemble their own sandwiches.
Related:
Grape Jelly Meatballs
Easy Meatballs With Mushroom Gravy
Prep Time: 20 minutes
Cook Time: 35 minutes
Total Time: 55 minutes
Ingredients:
Instructions:
Heat the oven to 375 F.
Line a large rimmed baking pan with foil.
Combine the ground beef with the breadcrumbs, finely minced onion, garlic, egg, salt, 1/4 teaspoon of pepper, and parsley.
Shape into 1-inch meatballs. Each meatball will weigh approximately 1/2 ounce. Arrange the meatballs in the prepared baking pan.
Bake the meatballs for about 20 to 25 minutes, or until cooked through.
Meanwhile, heat the olive oil in a large skillet over medium heat. Add the chopped onion and green or red bell pepper to the hot oil and cook until tender, stirring constantly. Add the chili sauce, tomato paste, and water. Bring the sauce mixture to a simmer and simmer for about 7 minutes, or until thick and bubbly. If too thick, add a bit more water.
Add the meatballs to the sauce mixture and stir to blend.
Toast the sub rolls, if desired, and then fill them with meatballs and some sauce.
Makes 8 to 10 servings.
Site Search