Crockpot Wagon Wheel Beef Stew
by
, June 2, 2017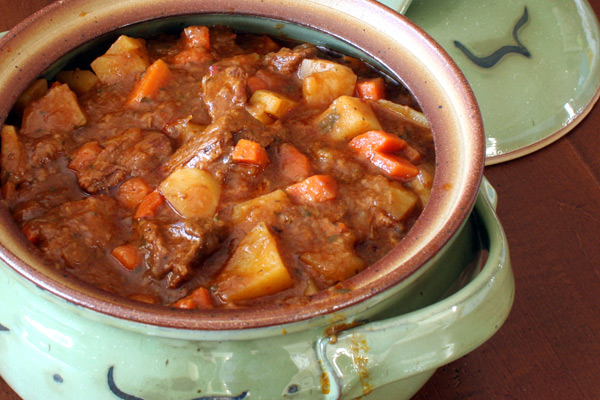 Some barbecue sauce and wagon wheel pasta give this crockpot beef stew flavor and character. If you prefer potatoes in your beef stew, add them along with the other vegetables and omit the pasta.
Prep Time: 20 minutes
Cook Time: 8 hours
Total Time:8 hours 20 minutes
Ingredients:
Instructions:
In a bowl or bag, combine the flour with seasoned salt. Add the beef cubes and toss to coat them thoroughly.
Heat the vegetable oil in a large skillet over medium-high heat; brown beef in the hot oil and then transfer to slow cooker.
Add the sliced onions to the skillet and cook until lightly browned. Add the garlic and cook for another minute, stirring constantly.
Put the onions and garlic in the crockpot with the beef and add the beef stock, tomatoes, barbecue sauce, Worcestershire sauce, carrots, and celery.
Cover and cook on low 7 to 9 hours; add the cooked pasta about 10 to 15 minutes before the stew is done.
Makes 6 Servings
Site Search