Shepherd's Pie With Lamb and Vegetables
by
, October 25, 2017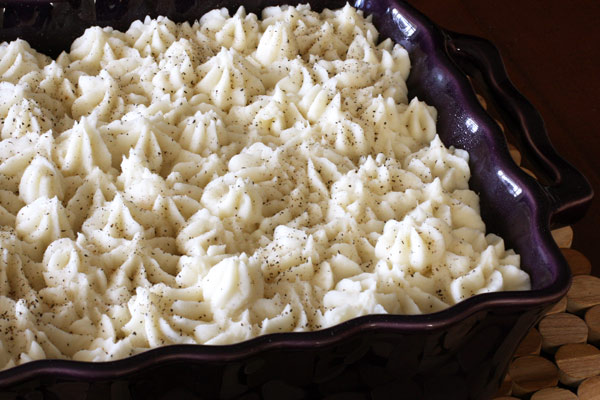 This traditional shepherd's pie is made with ground or minced lamb, gravy, and chopped vegetables. The homemade mashed potato topping is classic. For a special look, pipe the potatoes onto the casserole filling with a cake decorating tip.
Related:
Cottage Pie With Ground Beef
Prep Time: 20 minutes
Cook Time: 55 minutes
Total Time: 1 hour 15 minutes
Ingredients:
Potatoes
Lamb Filling
Instructions:
Peel the potatoes and cut them into small chunks. Put the potatoes in a large saucepan and cover with water; add 2 teaspoons of salt. Place the pan over medium-high heat and bring to a boil. Reduce the heat to medium-low, cover the pan, and continue cooking until the potatoes are tender -- about 15 to 20 minutes.
Drain the potatoes thoroughly. Add the 6 tablespoons of butter and 1/2 cup of milk or cream. Mash until smooth, adding more milk or cream along with salt and pepper, as needed. Set aside.
Heat the oven to 400 F.
Lightly grease a 3-quart baking dish.
Heat the olive oil in a large skillet over medium heat. Add the carrot and cook until the carrot is just tender. Add the onion and saute for about 4 minutes longer. Crumble the lamb into the skillet and cook until no longer pink, stirring frequently. Add 2 tablespoons of flour and the thyme. Cook for about 1 minute, stirring constantly. Add the broth and wine (if using) to the roux along with the Worcestershire sauce and tomato paste. Stir and bring to a simmer. Add the peas and continue cooking until the peas are tender.
Spoon the lamb and vegetable mixture into the baking dish.
Pipe or spread the potatoes over the lamb filling.
Bake the shepherd's pie for about 30 minutes, or until the potatoes are browned. If necessary, turn the broiler for a minute or two.
Makes 6 servings.
Site Search