Basic Scrambled Eggs With Bacon
by
, August 24, 2017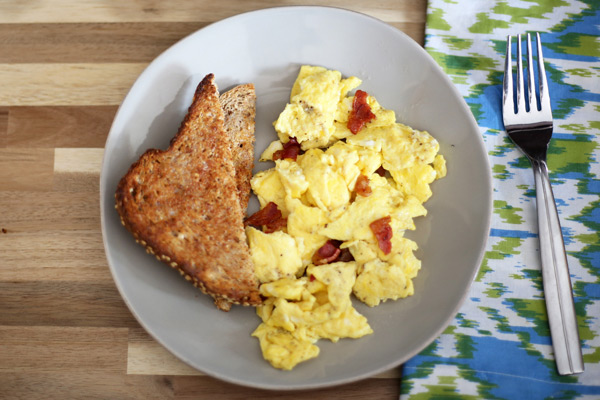 Bacon and optional green onions elevate these otherwise ordinary scrambled eggs. Serve them along with toast, hash browns, and fresh sliced melon for a fabulous hearty breakfast. Or pile some on a croissant or English muffin for a delicious breakfast sandwich.
Related:
Scrambled Egg Croissant
Prep Time: 10 minutes
Cook Time: 10 minutes
Total Time: 20 minutes
Ingredients:
Instructions:
Place a large skillet over medium heat. Add the bacon and cook until crisp; remove the bacon to paper towels to drain. Crumble the bacon and set aside. Wipe out the skillet.
In a mixing bowl, beat the eggs with the milk, salt, and pepper until well blended.
Melt the butter in the skillet over medium-low heat until hot; pour in egg mixture. Reduce heat. As the egg mixture begins to set on bottom and sides of the skillet, lift and fold over with a spatula. Cook until eggs are almost set; fold in the bacon and green onion, if using. Heat through and serve immediately.
Makes 4 Servings
Site Search