Scalloped Corn Casserole
by
, July 24, 2017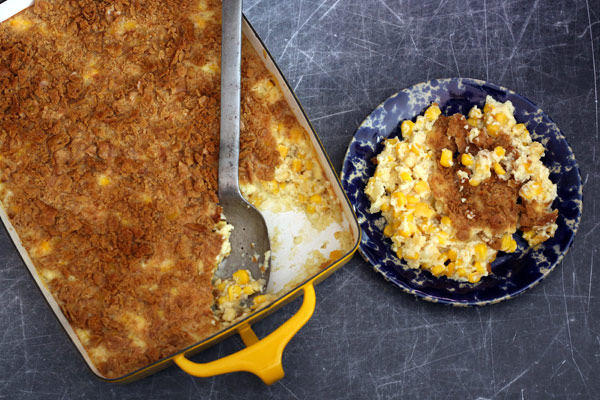 This scalloped corn casserole is pure comfort food. Fresh, frozen, or canned corn may be used in the casserole. The corn is held together with a rich white sauce and egg, and the cracker crumb topping is classic.
Prep Time: 15 minutes
Cook Time: 39 minutes
Total Time: 54 minutes
Ingredients:
Instructions:
Preheat the oven to 375 F.
Butter a 1 1/2 to 2-quart baking dish.
In a medium saucepan over medium heat, melt 5 tablespoons of the butter. Add the diced onions and cook until the onions are translucent, stirring constantly. Add the flour, lower the heat to medium-low, and continue cooking for 4 minutes, stirring constantly. Stir in the milk and add salt and freshly ground black pepper, to taste. Whisk in the egg and continue cooking until thickened. Add the corn and stir to blend.
Pour the corn mixture into the prepared baking dish.
Melt the remaining 2 tablespoons of butter and toss with the cracker crumbs. Sprinkle over the top of the casserole.
Bake for 30 to 40 minutes, or until the topping is browned and the filling is hot and bubbling.
Makes 6 Servings
Site Search