Sausage and Butternut Squash Stew
by
, May 30, 2017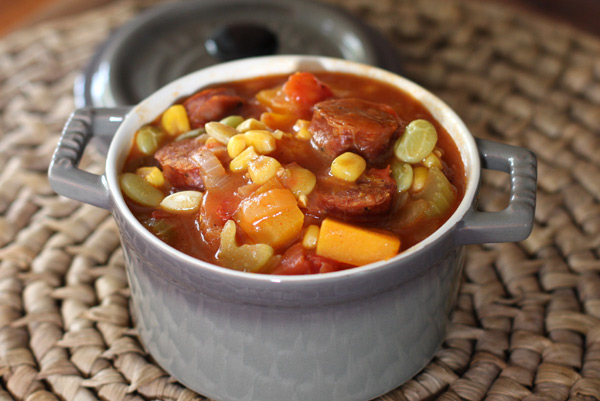 Celebrate autumn with this wonderful butternut squash and sausage stew. The stew is colorful and delicious! A vegetable peeler makes peeling a butternut squash very easy. Frozen or packaged fresh butternut squash may be used as well.
Prep Time: 20 minutes
Cook Time: 1 hour
Total Time: 1 hour 20 minutes
Ingredients:
Instructions:
Heat the olive oil in a large Dutch oven or kettle over medium heat, cook the sausage in olive oil until lightly browned. Add the chopped onion and celery and continue cooking until onion is translucent. Stir in flour until well blended. Cook for about 2 minutes, stirring constantly.
Stir in vegetable or chicken stock, tomatoes, and lima beans. Bring to a boil. Cover, reduce the heat to low and simmer for 20 minutes.
Add the squash and corn to the stew along with salt, pepper, and paprika.
Cover and continue cooking for about 30 minutes, or until squash is tender.
Add hot sauce, as desired, and serve with cornbread.
Makes 4 to 6 Servings
Site Search