Salmon Fillets With Honey Lavender Glaze
by
, August 9, 2017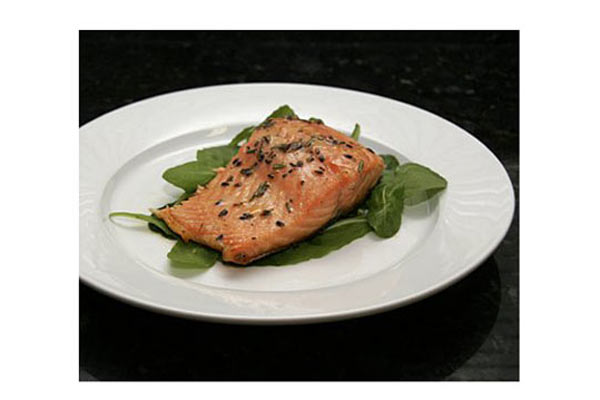 This recipe was inspired by a salmon dish I enjoyed at a little bistro several years ago. The lavender and honey flavor the salmon beautifully, and it's an impressive dish to serve for a special occasion. The dish requires some time for steeping and marinating, so plan accordingly.
Prep Time: 15 minutes
Cook Time: 16 minutes
Total Time: 31 minutes
Ingredients:
Instructions:
Combine 1/4 cup of olive oil, the herbs, salt, and pepper in a small bowl. Cover and refrigerate for a few hours or overnight.
Combine the oil and herb mixture with the honey in a large food storage bag; place salmon fillets in the mixture, turning gently to coat well. Cover and refrigerate for 1 hour.
Heat oven to 375 F.
Heat about 1 1/2 tablespoons of olive oil in a large skillet over medium-high heat. Sear the salmon, skin side down, for about 4 minutes.
Move the skillet to the oven (if the skillet is not oven-safe, move the fillets to a lightly oiled baking pan) and cook, uncovered, for about 12 minutes, or until salmon flakes with a fork. It will cook a little more when removed from the oven, so don't overcook.
Makes 4 Servings
Site Search