Salmon and Corn Chowder
by
, August 30, 2017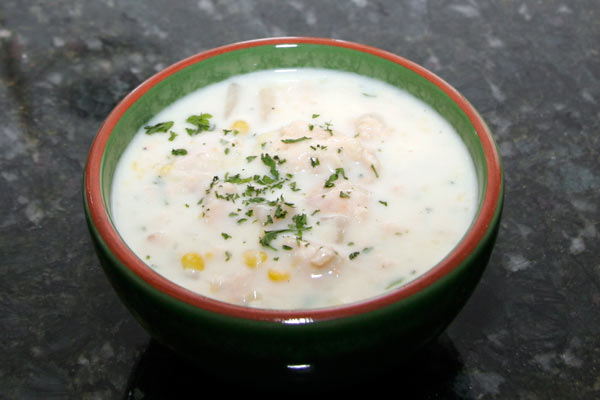 Delicious, nutritious salmon makes a tasty chowder, and it's hearty enough for a soup supper. Serve it with oyster crackers or crusty bread. The chowder calls for canned salmon, but fresh salmon may be used as well. Poach it and then flake and add to the chowder.
Related:
Corn and Bacon Chowder
Prep Time: 15 minutes
Cook Time: 35 minutes
Total Time: 50 minutes
Ingredients:
Instructions:
Drain and flake salmon, reserving the liquid in a small bowl or cup. Put the salmon in a separate bowl and refrigerate until it's needed. If using fresh salmon, poach it and reserve about 1/2 cup of the poaching liquid.
Melt the butter in a skillet over medium heat. Cook the chopped onions, celery, and garlic until softened, stirring frequently.
To the onion mixture, add the potatoes, carrots, reserved salmon liquid, chicken stock, thyme, and pepper. Bring to a simmer and reduce the heat to low. Cover the pan and continue cooking for 20 to 25 minutes, or until vegetables are nearly tender.
Add the flaked salmon to the vegetables along with the evaporated milk and corn; taste and season with salt, as needed. Heat through.
Sprinkle with some fresh chopped parsley or chives.
Makes 6 Servings.
Site Search