Easy Salisbury Steaks With Gravy
by
, May 18, 2017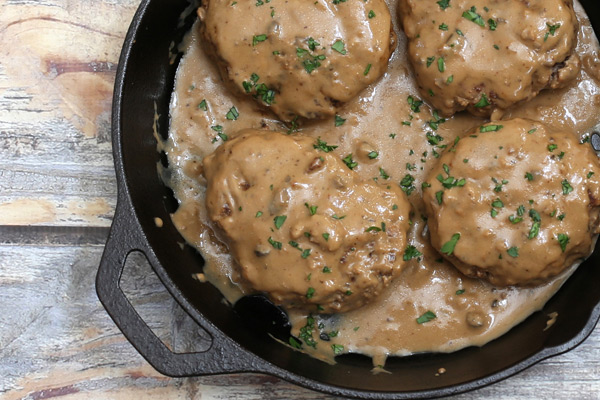 These browned hamburger steaks are simmered in a super easy mushroom gravy mixture. Serve these Salisbury steaks with mashed potatoes and green beans or broccoli.
Prep Time: 18 minutes
Cook Time: 20 minutes
Total Time: 38 minutes
Ingredients:
Instructions:
In a large bowl, combine the condensed soup, mustard, and Worcestershire sauce; blend well. Set aside.
In another bowl, lightly beat egg; add bread crumbs, finely chopped onion, salt, and pepper. Add 1 tablespoon of the soup mixture and the ground beef; mix well. Shape into 4 large patties.
Heat the olive oil in a large skillet over medium-low heat. Brown the patties well on one side; turn carefully to brown the other side. They should be almost fully cooked. Drain off excess grease.
Meanwhile, in a bowl, combine remaining soup mixture with 1/4 cup of stock, or enough to make a gravy consistency (more if you use 2 cans of condensed soup); add gravy browning sauce, if desired. Stir well.
Pour the soup mixture over Salisbury steaks. Cover the skillet and simmer over low heat for about 10 minutes or until meat is cooked through. Remove the patties to a serving platter; spoon sauce over meat.
Sprinkle with fresh chopped parsley if desired.
Makes 4 Servings
Site Search