Homemade Rustic Bread
Updated July 1, 2017 by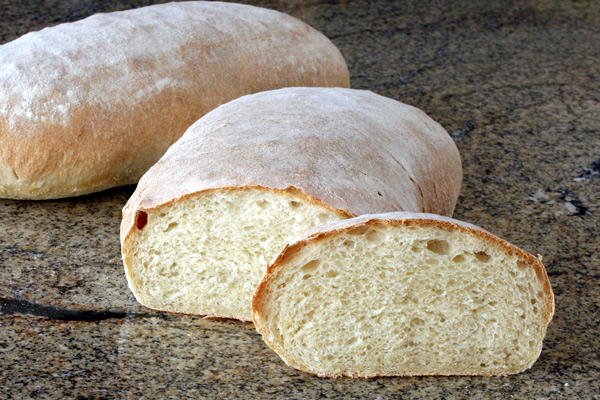 This bread is started a day in advance. I used a stand mixer to mix the moist dough, but a handheld mixer with a dough hook should work as well. The great flavor comes from the long proofing and rising times. This bread, with its crusty exterior, is similar to a ciabatta loaf. Handle the bread as little as possible before the final rising to preserve the air bubbles.
Prep Time: 20 minutes
Fermentation and Rising Times: 15 hours Cook Time: 25 minutes
Total Time: 15 hours 45 minutes
Ingredients:
Instructions:
The Initial Sponge
In the mixing bowl of a stand mixer with paddle attachment, combine the 3 1/2 cups of bread flour, 2 cups of water, 1/4 teaspoon of instant yeast, and 1 teaspoon of salt. Beat on medium-low speed until smooth.
Remove the bowl and cover it tightly with plastic wrap. Let stand for about 12 to 16 hours, or overnight.
Mix and Bake the Bread
The next day, add the remaining 4 cups of flour to the sponge along with the 1 1/2 teaspoons of salt, 3/4 cup of water, the olive oil, and 1 1/2 teaspoons of instant yeast. Attach the dough hook and mix on low speed until the ingredients are well combined. Increase to medium speed and continue mixing for about 5 to 7 minutes. The dough will be quite wet but should show some elasticity when you pull on it with floured fingers.
With the dough still in the bowl, flour your hands and fold it over on itself a few times. Sprinkle the dough with a teaspoon or two of flour and once again cover the mixing bowl with plastic wrap.
Let the dough stand at room temperature for 3 hours, folding it again at the 1 hour mark and then again at the 2 hour mark. This will help incorporate some air into the dough.
Lightly grease two baking sheets and sprinkle with cornmeal.
With floured hands, gently move the dough to a floured surface. Cut the dough into two equal portions and gently shape them into two oblong loaves.
Carefully move them to the prepared baking sheets.
Sprinkle the loaves lightly with flour. Cover them with a lightweight tea towel and let rise for about 1 1/2 hours.
Preheat the oven to 425 F.
Move the bread in the oven and spray some water on the oven floor to create steam. Do this a few times within the initial 10 minutes.
Bake the loaves for 20 to 25 minutes, or until the bread is nicely browned and sounds hollow when tapped on the bottom. The internal temperature will be around 190 F on an instant-read thermometer inserted into the center of a loaf.
Remove the loaves to racks to cool.
24 Servings
Site Search