Braised Rosemary Chicken
by
, December 24, 2017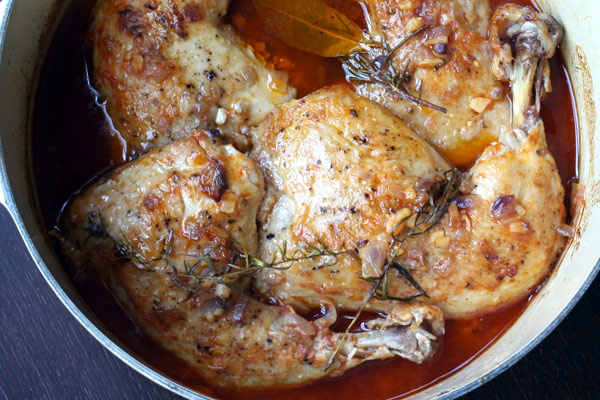 Serve this delicious braised chicken with boiled or mashed potatoes and your family's favorite veggies. Wine and rosemary flavor the chicken. Feel free to omit the mushrooms if you aren't a fan.
Related:
Roasted Whole Chicken With Maple Rosemary Glaze
Prep Time: 12 minutes
Cook Time: 40 minutes
Total Time: 52 minutes (plus marinating time)
Ingredients:
Instructions:
Combine the rosemary and wine in a saucepan. Bring to a simmer; remove from the heat and let it steep until cooled.
Lightly season the chicken with salt and pepper.
Melt the butter with the olive oil in a skillet over medium heat. Add the chicken pieces and cook until browned, turning to brown all sides. Add the wine and rosemary and cover the pan. Simmer the chicken for 25 minutes. Add the sliced mushrooms and continue cooking for 10 to 20 minutes.
Remove the chicken to a plate and skim the fat from the liquids. Spoon the defatted sauce over the chicken.
Makes 4 servings.
Site Search