Rocky Road Ice Cream
by
, July 14, 2017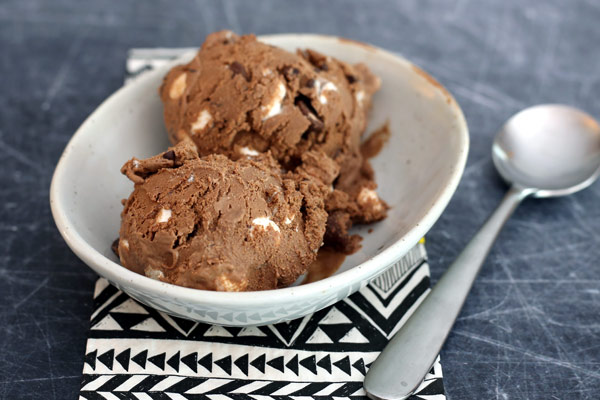 The rich chocolate ice cream is filled with miniature marshmallows, mini chocolate chips, and nuts. Use toasted almonds or pecans in the ice cream, or leave the nuts out and add some extra chocolate chips and marshmallows. For a lighter ice cream with fewer eggs and less chocolate, use this basic chocolate ice cream recipe.
Prep Time: 15 minutes
Cook Time: 4 minutes
Total Time: 19 minutes
Ingredients:
Instructions:
Place a mesh strainer over a bowl and set aside.
In a medium saucepan, combine the heavy cream with cocoa; bring to a boil over medium-high heat.
Remove the cream mixture from the heat and add chopped chocolate; stir until the chocolate has melted and the mixture is smooth.
Add the milk and sugar and cook over medium-low heat, stirring, until the mixture is hot.
In a bowl, whisk the egg yolks with the salt. Whisk in about 1 cup of the hot cream and milk mixture. Return the egg yolk mixture to the saucepan and cook, stirring, until the custard reaches 175 F to 180 F or until it coats the back of a spoon.**
Pour the custard through the strainer into the bowl.
Cover the bowl with plastic wrap and refrigerate for about 4 hours, or until thoroughly chilled. The custard may be made the day before and refrigerated overnight. Alternatively, for faster chilling, set the bowl inside a larger bowl of ice and water.
Pour the chilled custard into an ice cream maker and churn following the manufacturer's directions.
Spoon the ice cream into a container, alternating with layers of marshmallows, toasted nuts, and chocolate chips. Swirl to distribute the ingredients evenly.
Cover the container and freeze until firm.
The recipe makes about 2 1/2 quarts of ice cream once the ingredients are added.

*To toast the nuts, spread them out in a dry skillet and place the skillet over medium heat. Cook while stirring and flipping until the nuts are aromatic and lightly browned. Immediately remove the toasted nuts to a plate to stop the cooking process.

**To test the mixture without a thermometer, dip a metal or wooden spoon in the custard. Draw a path down the back of the spoon with a finger. If the path stays clear, it is done.

Makes About 20 1/2-cup Servings
Site Search