Roasted Sweet Potato Soup
by
, September 30, 2017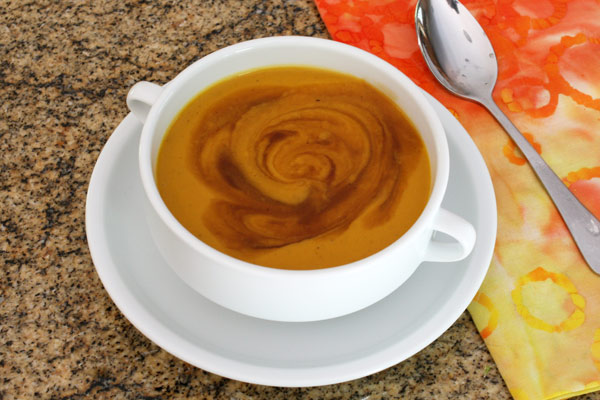 Roasted diced sweet potatoes are combined with vegetable broth, seasoning vegetables, and cream to make a delicious, lightly spiced soup. Garnish the soup with a swirl of maple syrup, chopped toasted pecans, or fried whole sage leaves.
Related:
Creamy Butternut Squash Soup
Creamy Zucchini Soup
Prep Time: 15 minutes
Cook Time: 60 minutes
Total Time: 75 minutes
Ingredients:
Instructions:
Heat the oven to 425 F.
Line a large rimmed baking sheet with foil.
Toss the diced sweet potatoes with 2 tablespoons of olive oil. Arrange the sweet potatoes on the prepared baking sheet and season with salt and pepper.
Roast the sweet potatoes for 30 to 40 minutes, or until tender.
Meanwhile, in a large saucepan, saute the onion and celery in the remaining 1 tablespoon of olive oil until onion is translucent. Add the garlic and saute for 2 minutes longer. Add the vegetable broth, the chopped sage, cinnamon, nutmeg, and brown sugar. Bring to a boil. Reduce heat to simmer for 10 minutes.
Add the roasted sweet potatoes to the saucepan and continue cooking until vegetables are all very tender, about 5 to 10 minutes longer.
Blend the hot mixture in 3 to 4 batches, until smooth. Return to the saucepan and stir in the cream. Heat through. Season to taste with salt and pepper.
Serve with a garnish of fried sage leaves, chopped chives, a drizzling of maple syrup, or chopped toasted pecans.
Makes 8 servings.
Site Search