Roasted Eggplant and Tomato Soup
by
, April 29, 2017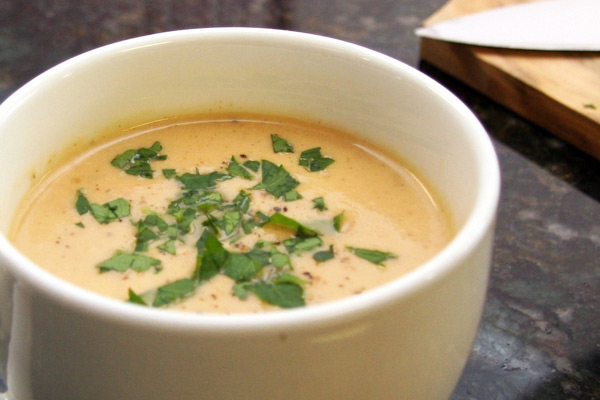 This creamy soup is a fabulous way to use fresh eggplants and tomatoes. The soup is flavored with garlic and some lemon juice along with dried basil.
Prep Time: 15 minutes
Cook Time: 1 Hour 30 minutes
Total Time: 1 Hour 45 minutes
Ingredients:
Instructions:
Heat oven to 400 F.
Line a large baking pan with foil and spray with nonstick cooking spray or brush with a small amount of olive oil.
Cut each of the tomatoes into 4 wedges.
Cut the stems off of the eggplants and slice lengthwise into 4 wedges.
In a large food storage bag or bowl, toss the tomato wedges, eggplant slices, onion wedges, and garlic with 2 tablespoons of olive oil. Spread the vegetables in the baking pan. Sprinkle lightly with salt and pepper. Roast for about 45 minutes, or until the vegetables are tender and browned. Turn a few times during the cooking time.
Scoop eggplant into a large saucepan; discard peel. Set aside. Put remaining roasted vegetables in the saucepan along with the basil, chicken broth, and lemon juice. Bring to a boil. Reduce heat to medium low and cover; simmer for 35 to 45 minutes, or until all of the vegetables are very soft. Remove from heat and let stand for 15 minutes.
In a blender, process the eggplant and chicken broth mixture in 4 batches until pureed.
Return the pureed mixture to the large saucepan and stir in the cream.
Bring the soup to a simmer. Add more chicken broth if the mixture is too thick.
Taste and add salt and pepper, as needed.
Spoon into bowls and sprinkle with fresh chopped parsley, if desired.
4 to 6 Servings
Site Search