Roasted Whole Chicken With Maple Rosemary Glaze
by
, July 24, 2017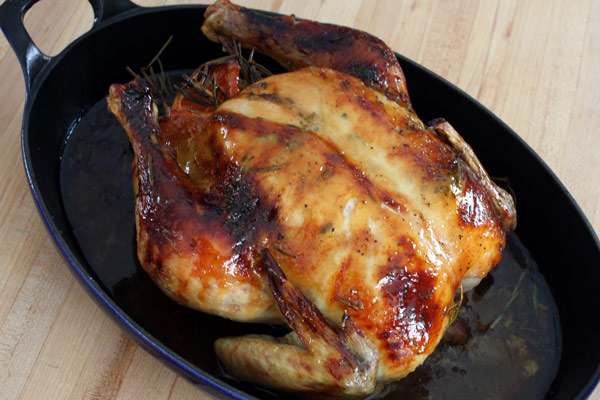 A rosemary and maple glaze flavors this amazing roasted chicken. Add a dash of cinnamon to the glaze mixture or leave it out. It's a refreshing alternative to the typical seasoned roast chicken.
Prep Time: 15 minutes
Cook Time: 2 hours
Total Time: 2 hours 15 minutes
Ingredients:
Instructions:
Heat the oven to 350 F. Lightly oil a roasting pan.
Remove the neck and giblet package and discard or save for gravy, stock, or another use.
Place the chicken in the roasting pan. Sprinkle the cavity with salt and pepper and then fill it with chunks of orange and apple along with a few rosemary sprigs, if desired.
Mix the chilled butter with the chopped fresh rosemary.
Loosen the skin over the chicken breasts and tuck the butter mixture under the skin. Rub any remaining butter mixture over the skin.
Meanwhile, combine the maple syrup, apple juice, and cornstarch in a small saucepan.
Add the vinegar and cinnamon. Cook, stirring, until simmering and thickened. Simmer for 2 minutes.
Lightly brush some glaze mixture over the chicken and roast for 30 minutes. Brush with more glaze and continue roasting, brushing with glaze every 10 to 15 minutes. The chicken will take about 1 1/2 to 2 hours.
The chicken should register at least 165 F on a food thermometer inserted in the thickest part of a thigh.
Let the chicken rest for about 10 minutes before carving.
Makes About 6 Servings
Site Search