Roast Beef With Red Wine Sauce
by
, September 14, 2017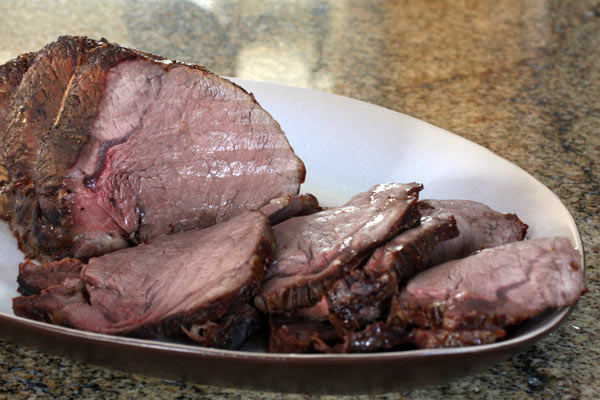 This tender, juicy beef sirloin roast is served with a flavorful red wine sauce. Use a good quality Pinot Noir, Cabernet, or Merlot in the sauce. The roast beef makes a fabulous Sunday dinner or holiday meal. Serve it with mashed or roasted potatoes and broccoli or green beans.
Related:
Roast Beef With Pan Gravy
Prep Time: 10 minutes
Cook Time: 2 hours 10 minutes
Total Time: 2 hours 20 minutes
Ingredients:
Red Wine Sauce
Instructions:
Heat the oven to 450 F.
Line a baking or roasting pan with foil.
Place the beef in the pan and rub the surface with the garlic halves and then rub with the mustard. Sprinkle lightly with kosher salt and freshly ground black pepper over the roast.
Roast the beef for 10 minutes in the preheated 450 F oven and then turn the heat down to 275 F. Roast for about 2 hours longer for medium rare, or to 145 F for medium. Use an instant read thermometer or oven probe to monitor the temperature.
Cover the roast loosely with foil and let stand for about 15 to 20 minutes before carving.
Meanwhile, make the sauce. Heat 1 tablespoon of butter in a medium saucepan over medium-low heat. Add the chopped shallots and cook for about 2 minutes, until the shallots are translucent. Add the red wine and bring to a boil. Simmer for 4 minutes, until slightly reduced. Add the beef broth and drippings and simmer for about 8 to 10 minutes to reduce further.
To optionally thicken the sauce, combine the remaining 3 tablespoons of butter with the flour and mix until smooth and well blended. Add to the sauce and cook, whisking, until the sauce is thickened. If you don't care to thicken the sauce, omit the flour and whisk the remaining 3 tablespoons of butter into the sauce.
Add the 1/2 teaspoon of pepper. Taste and adjust seasonings. Serve the sauce with the beef.
Makes 8 servings.
Site Search