Ricotta Cookies With Brown Butter Icing
by
, October 1, 2017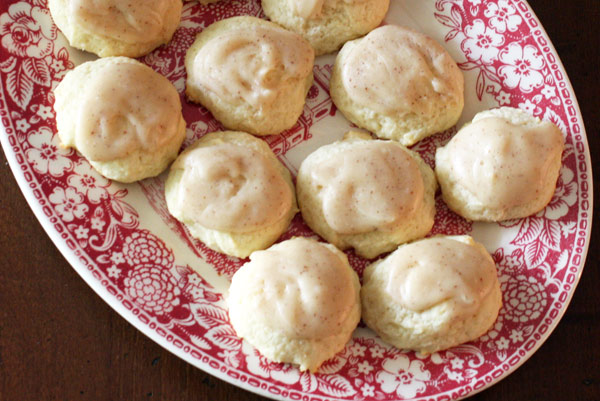 These soft, delicious ricotta cookies are iced with a brown butter icing. It just takes a few minutes to make the icing, and the flavor is amazing.
Related:
Glazed Lemon Tea Cakes
Almond Crescent Cookies
Prep Time: 10 minutes
Cook Time: 12 minutes
Total Time: 22 minutes
Ingredients:
Brown Butter Icing
Instructions:
Preheat the oven to 350 F.
Line a baking sheet with parchment paper or lightly grease it.
Measure the flour, baking powder, and soda; stir and set aside.
In a mixing bowl with an electric mixer, beat the 4 ounces of butter and sugar until light and fluffy.
Beat the egg, 1 teaspoon of vanilla, and almond extract, if using, into the creamed mixture until well blended. Stir in the ricotta cheese and the flour mixture. Beat until blended.
Drop the dough onto the baking sheet with a small cookie scoop or teaspoon.
Bake the cookies for 10 to 12 minutes, or until set and lightly browned on the bottoms.
Meanwhile, melt 6 tablespoons of unsalted butter over medium heat. Cook, stirring constantly, until you see that the sediment is browning. Take care that it doesn't get too dark and burn.
When the sediment is a medium golden brown, remove it from the heat and stir in the confectioners' sugar, vanilla, and 1 1/2 tablespoons of milk. Add a little more milk if too thick.
Spoon about 1 teaspoon of the icing on each warm cookie. If the icing becomes too thick, reheat over low heat until you have a good consistency for drizzling.
Makes 30 servings.
Site Search