Red, White, and Blue Angel Food Cake
by
, May 15, 2017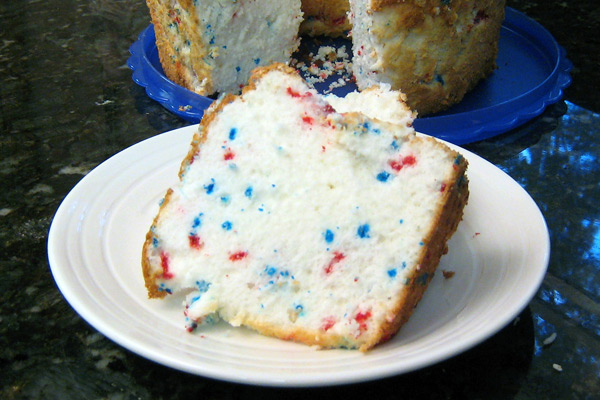 This angel food cake is a nice cake to make for a Fourth of July celebration. Red, white, and blue confetti bits make it perfect for the occasion. Frost the cake with a fluffy white frosting and sprinkle it with more confetti or serve it with strawberries or blueberry sauce.
Prep Time: 15 minutes
Cook Time: 35 minutes
Total Time: 50 minutes
Ingredients:
Instructions:
Position a rack in the lower third of the oven. Preheat the oven to 375 F.
Sift flour with 3/4 cups of the granulated sugar 4 times; set aside.
In a mixing bowl with an electric mixer, beat the egg whites with the salt and cream of tartar until soft peaks have formed. Gradually beat the remaining 1 cup sugar into the eggs, adding about 3 to 4 tablespoons at a time.
Beat well after each addition and continue to beat until stiff peaks form when beaters are raised.
With a rubber spatula, whisk, or wooden spoon, gently fold the almond extract and vanilla into the beaten egg whites. Sprinkle about one-quarter of the flour mixture evenly over the egg whites; fold in gently with about 15 strokes. Repeat until all of the flour mixture and fold in the sprinkles with about 12 to 15 more strokes.
Gently spoon batter into an ungreased 10-inch tube pan. Cut through batter in pan with a narrow spatula or knife. Spread batter to smooth the top and make sure batter touches the sides of the pan.
Bake for 35 to 40 minutes, or until cake springs back when lightly touched with fingertip.
Invert pan to cool completely, about 2 hours.
Use a narrow spatula or knife to gently loosen the cake from the sides and center of the tube pan. Gently, grasping the center tube, lift the cake out of the pan. Use a narrow spatula or knife to loosen the cake from the bottom. Remove the cake from tube section and frost with a fluffy white frosting or serve with sweetened strawberries or other fruit.
Makes 12 to 16 Servings
Site Search