Red Velvet Whoopie Pies
by
, May 17, 2017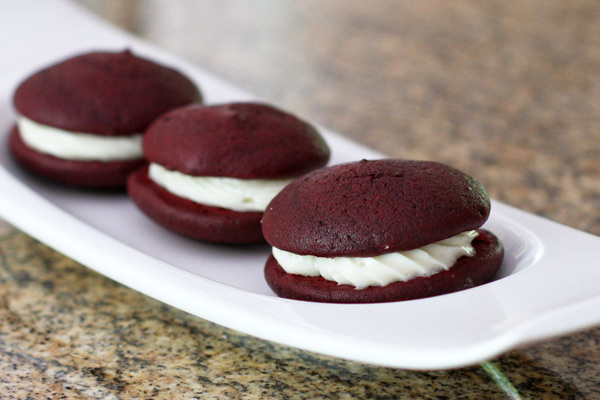 These small red velvet whoopie pies are perfect for Valentine's Day or Christmas parties. The recipe is easily doubled for a larger batch or larger whoopie pies.
Prep Time: 22 minutes
Cook Time: 9 minutes
Total Time: 31 minutes
Ingredients:
Filling
Instructions:
Heat the oven to 350 F.
Line two large baking sheets with parchment paper.
Measure the flour, unsweetened cocoa, baking powder, baking soda, and salt into a bowl. Whisk or stir to blend.
In a mixing bowl with an electric mixer, beat 4 tablespoons of butter with 1/2 cup of brown sugar until light. Add the egg and 1 teaspoon of vanilla; beat until well blended. Stir in the flour and cocoa mixture, alternating with the buttermilk and red food coloring. Beat until smooth and blended.
With a cookie scoop or pastry bag, drop or pipe the batter onto the prepared baking sheets in 1 1/2-inch round mounds.
Bake the whoopie pies for 8 to 10 minutes, or until the cakes spring back when touched lightly with a finger.
Cool completely before filling.
Prepare the filling (directions below) and spread or pipe some on the bottom of a cookie. Top with the another cookie to form a whoopie pie (flat side down). Repeat with the remaining cookies and filling.
Store the whoopie pies in the refrigerator in wax paper or parchment-lined containers, putting sheets of parchment or wax paper between the cookies.
Filling
Beat the 4 ounces of cream cheese with 4 tablespoons of butter until light. Beat in the confectioners' sugar and 1/2 teaspoon of vanilla until smooth and fluffy.
Makes About 13 Small Whoopie Pies.
Site Search