Semi-Homemade Red Velvet Cake
by
, May 17, 2017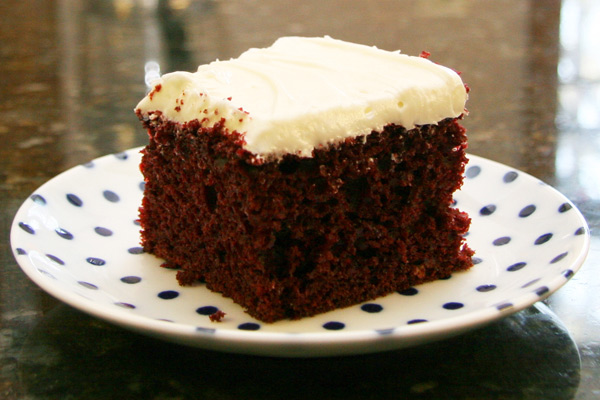 A devil's food cake mix makes this red velvet cake easy, and the cream cheese frosting is the perfect topping. Buttermilk, eggs, and food coloring make it a semi-homemade cake.
Prep Time: 15 minutes
Cook Time: 30 minutes
Total Time: 45 minutes
Ingredients:
Frosting
Instructions:
Heat the oven to 350 F.
Grease and flour a 9-by-13-by-2-inch baking pan.
In a mixing bowl with an electric mixer, combine the cake mix, baking soda, buttermilk, vegetable oil, eggs, 1 teaspoon vanilla, vinegar, and food coloring. Beat on low speed until well blended. Increase the mixer to high speed and beat for 2 minutes longer.
Pour the batter into the prepared baking pan.
Bake for 25 to 30 minutes, or until cake springs back when lightly touched with a finger.
Let cool on a rack.
Frost the cooled cake with cream cheese frosting (below) and sprinkle with chopped pecans or coconut, if desired.
Frosting
In a mixing bowl with electric mixer, beat the softened cream cheese and butter together until blended.
Sift the powdered sugar into the bowl and beat on low speed until blended. Continue beating on medium speed until smooth and creamy.
Beat in 1 teaspoon of vanilla and enough of the warm water to make a soft, spreadable frosting.
Makes 12 servings.
Site Search