Raspberry Cake With Crumb Topping
by
, May 11, 2017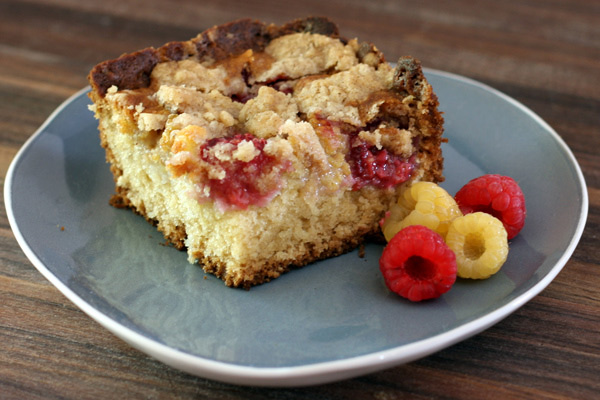 This snack cake features fresh raspberries and a buttery crumble topping.
Prep Time: 15 minutes
Cook Time: 50 minutes
Total Time: 1 hour 5 minutes
Ingredients:
Cake
Instructions:
Pick the raspberries over and discard damaged berries. Rinse the raspberries under cold water; set aside to dry.
Heat the oven to 325 F.
Grease and flour an 8-inch square baking pan.
Combine the 2 cups of flour, baking powder, soda, and salt; set aside.
In a mixing bowl with an electric mixer, beat 4 ounces of butter with 3/4 cup sugar until light and fluffy, about 4 minutes. Beat in egg until well blended. Add about a one-third of the flour mixture and half of the milk. Beat on low speed until smooth. Add another one-third of the dry mixture and the remaining milk and beat until smooth. Add remaining dry mixture and beat until smooth.
Spread the batter in the prepared baking pan and then scatter raspberries evenly over the top of the batter.
Crumble Topping
Combine the 4 tablespoons of butter with 1/3 cup of flour, the 1/2 cup sugar, cinnamon, and nutmeg. Mix with a fork until well blended. Sprinkle the crumb mixture evenly over the raspberry layer.
Bake the cake for 50 to 60 minutes, until a cake tester or wooden pick comes out clean. Cool completely on a rack then cut into squares.
Makes About 6 to 9 Servings
Site Search