30-Minute Ground Beef Stroganoff
by
, June 20, 2017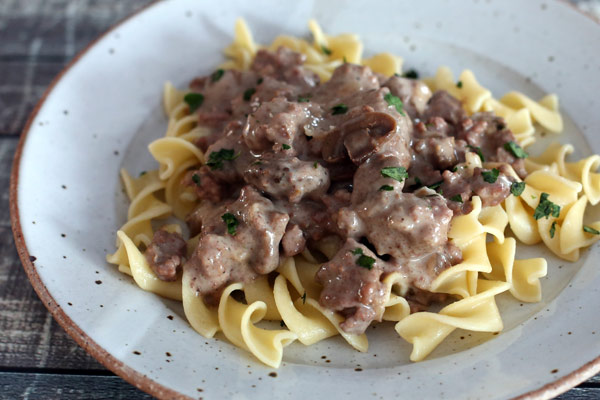 This fast and easy beef stroganoff is ready in under 30 minutes! Serve the ground beef stroganoff with a tossed salad or steamed veggies for a tasty busy day meal.
Prep Time: 10 minutes
Cook Time: 18 minutes
Total Time: 28 minutes
Ingredients:
Instructions:
Place a large skillet over medium heat. Add the ground beef and onions and cook until the beef is no longer pink, stirring and breaking up as the ground beef cooks.
Remove the beef mixture to a plate and set aside.
To the same skillet, add the mushrooms and butter. Cook, stirring, for about 3 to 4 minutes, until mushrooms are tender.
Add the cooked ground beef mixture back to the skillet. Stir in the flour, garlic, salt, and pepper; cook, stirring constantly, for 2 minutes.
Add the condensed soup; stir to blend and bring to a simmer. Cook for about 5 minutes. Add the sour cream and heat through. Do not boil
Serve the beef stroganoff over hot cooked noodles, garnished with parsley or green onions.
Makes 6 Servings
Site Search