Pumpkin Tart Recipe With Streusel Topping
by
, September 1, 2017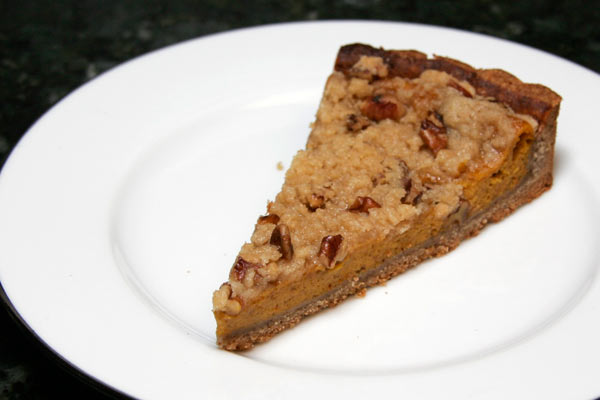 If you're looking for something a little different this holiday season, try this pumpkin tart. The easy crust and streusel topping give the pumpkin tart flavor and crunchy texture. It's an easy dessert and would make a nice addition to a Thanksgiving dessert menu.
Related:
Easy Pumpkin Cheesecake
Prep Time: 18 minutes
Cook Time: 50 minutes
Total Time: 1 hour 8 minutes
Ingredients:
Crust
Filling
Streusel
Instructions:
Preheat the oven to 350 F.
Combine 1 cup flour, 1/4 cup brown sugar, 1/2 cup pecan pieces in a food processor and process until the nuts are finely ground. Add the 4 tablespoons of butter and 1 egg; pulse until well blended.
Press the mixture over bottom and up sides of a 9-inch tart pan. Bake for 20 minutes.
Meanwhile, prepare the filling. In a mixing bowl with an electric mixer, beat 2 large eggs with 1/3 cup sugar, 1 cup pumpkin, the evaporated milk, salt, and spices.
In another bowl, combine the 1/4 cup flour, 1/4 cup brown sugar, 2 tablespoons of softened butter, and 1/4 cup of chopped pecans. Set aside.
Pour the pumpkin filling mixture into the hot crust and return to oven. Bake for 20 minutes longer; sprinkle with streusel and bake for about 10 minutes longer, or until topping lightly browned. The center should look dry and set.
Cool in pan on a rack for 30 minutes. Remove sides of pan and cool completely. Serve with whipped cream. Store in the refrigerator.
Makes 8 Servings.
Site Search