Pumpkin Cake Roll
by
, September 1, 2017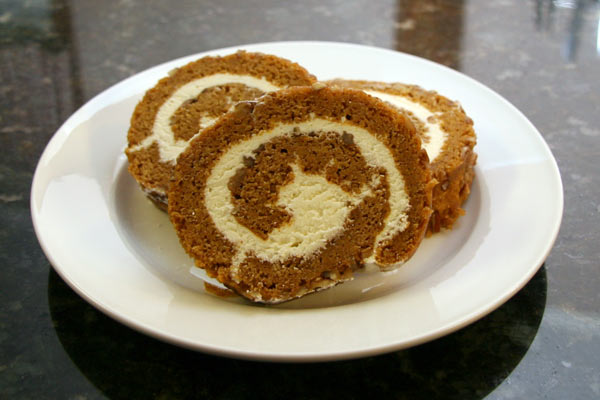 This pumpkin cake roll is always a hit. The cake is a pumpkin sponge cake that is rolled up with a cream cheese filling. The recipe is surprisingly easy to fix, and it never disappoints. If you take it to a dinner or party, take a few copies of the recipe!

The cake freezes beautifully, so make a few. Freeze individual slices or the whole cake.
Related:
Pumpkin Cream Cheese Muffins With Streusel Topping
Prep Time: 22 minutes
Cook Time: 14 minutes
Total Time: 36 minutes
Ingredients:
Cake
Filling
Instructions:
Preheat the oven to 375 F.
Generously grease and flour a 10-by-15-by-1-inch jelly roll pan.
In a mixing bowl with an electric mixer on high speed, beat the eggs; gradually beat in the granulated sugar. Continue beating until light and lemon colored. Stir in the pumpkin and 1 teaspoon of vanilla extract.
In a separate bowl, combine the flour, baking powder, spices, and salt. Fold flour mixture into the pumpkin batter. Spread the batter in the prepared pan. Sprinkle the chopped pecans over the batter.
Bake for 13 to 15 minutes, or until the cake bounces back when touched lightly with finger.
Meanwhile, spread a clean kitchen towel (not terrycloth) out on the countertop. Sprinkle generously with about 4 to 5 tablespoons of powdered sugar.
Turn the hot cake out onto the towel. Starting at narrow end, roll the cake and towel up together and let the cake cool completely.
When the cake has cooled, carefully unroll it.
In a mixing bowl with an electric mixer, beat the cream cheese with the 1 1/2 cups of powdered sugar, the butter, and 3/4 teaspoon of vanilla extract. Beat until smooth, adding a small amount of milk or cream if the mixture is too stiff. Spread over the cooled cake and then roll up. Chill thoroughly before serving.
If desired, sprinkle with more powdered sugar before slicing and serving.
Store leftovers in the refrigerator or freeze.
Makes 10 to 15 servings, depending on the thickness of slices.
Site Search