Pumpkin Pie With Pecan Praline Topping
by
, July 24, 2017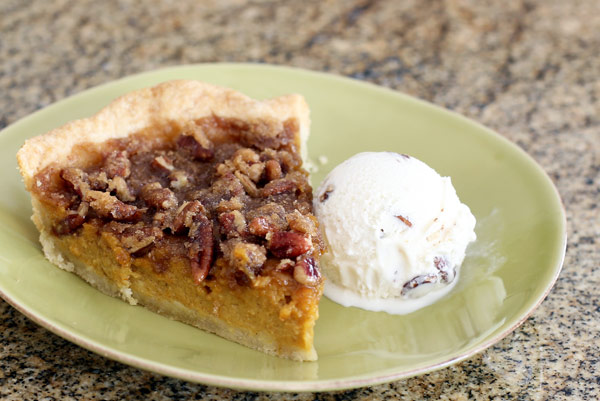 This pumpkin pie, with its crunchy pecan praline topping, stands out from the everyday pumpkin pie. It's easy to make with the included food processor pastry or use a frozen ready-made crust.
Prep Time: 20 minutes
Cook Time: 1 hour 5 minutes
Total Time: 1 hours 25 minutes
Ingredients:
Pie Pastry
Pumpkin Pie Filling
Topping
Instructions:
Prepare the Pastry
Combine the flour, 1/2 teaspoon of salt, and 2 teaspoons of sugar in a food processor; pulse until well blended.
Add the 10 tablespoons of butter pieces to the processor and pulse about 6 to 8 times, or until the mixture is coarse and pieces of dough are the size of peas.
Drizzle the ice water through the feed tube while pulsing until the dough begins to clump together.
Turn the dough out onto a floured board and knead a few times to bring it together.
Flatten the dough into a round disk, wrap in plastic wrap, and refrigerate for 30 to 45 minutes.
Roll out on a floured sheet of waxed paper into a 14 to 15-inch round, about 1/8-inch thick. Add flour, as needed, to keep the dough from sticking.
Line the pie pan with the dough and crimp the edge as desired.
Line the raw crust with foil and fill the foil with dry beans or pie weights. Chill for at least 30 minutes, or put in the freezer for about 15 minutes.
Preheat the oven to 375 F.
Bake the crust for 10 minutes, or until the pastry edges just begin to look dry. Remove the foil and weights and continue baking for 5 minutes longer.
Remove to a rack to cool completely.
Reduce the oven temperature to 350 F.
Pie Filling
Combine the eggs and 3/4 cup of granulated sugar in a large mixing bowl. With an electric mixer, beat until thick and lemon-colored, about 3 minutes.
Add the pumpkin, half-and-half or cream, 1/2 teaspoon salt, 1 teaspoon cinnamon, the ginger, nutmeg, cloves, and vanilla. Beat on low speed until well blended.
Pour the mixture into the crust and carefully transfer the pie to the preheated oven.
Bake for 20 minutes, then rotate the pie 1/2-turn. Continue baking for 30 minutes.
Meanwhile, in a small bowl, combine the chopped pecans, brown sugar, 2 tablespoons of softened butter, and the 1/2 teaspoon of cinnamon. Blend well using a fork or fingers.
Sprinkle the praline topping evenly over the top of the pie. Return the pie to the oven and bake for 10 to 15 minutes longer. A knife inserted into the center of the pie should come out clean.
Cool on a rack then move to the refrigerator to chill thoroughly. Store leftovers in the refrigerator.
Makes 8 to 10 Servings
Site Search