Pumpkin Cream Cheese Muffins With Streusel Topping
by
, June 18, 2017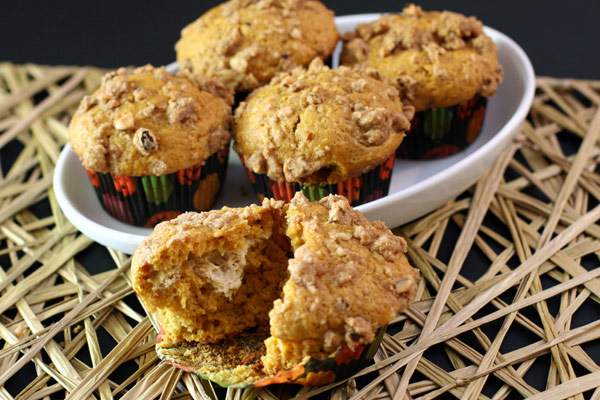 Fluffy spiced pumpkin muffins are baked with a filling of sweetened cream cheese and a crunchy streusel topping. Keep these muffins on hand for fall and winter guests. They freeze beautifully, too!
Prep Time: 16 minutes
Cook Time: 22 minutes
Total Time:38 minutes
Ingredients:
Filling
Muffins
Streusel Topping
Instructions:
Preheat the oven to 375 F.
Grease and flour 18 muffin cups or line them with cupcake papers.
In a medium bowl with an electric mixer, combine the cream cheese, 1/4 cup of brown sugar, 1 egg, and 1 teaspoon vanilla. Beat until smooth; set aside.
In a large mixing bowl with an electric mixer, combine the 2 2/3 cups of flour, 1 cup brown sugar, 1 cup granulated sugar, baking powder, salt, and pumpkin pie spice. Add the eggs, pumpkin puree, vegetable oil, and 2 teaspoons vanilla. Beat until well blended.
In a small bowl, combine the 1/3 cup flour, 1/3 cup brown sugar, 1/2 teaspoon cinnamon, softened butter, and chopped pecans or walnuts. Blend well using your fingers or a fork.
Fill the prepared muffin cups about one-third full with the muffin batter. Drop about 1 tablespoon of the cream cheese mixture in the center of the batter and then top with about 1 more tablespoon of the pumpkin batter, or until cups are about 3/4 full.
Sprinkle the muffins evenly with the streusel topping.
Bake for about 20 to 24 minutes, or until firm.
Makes 16 to 18 Servings
Site Search