Pork Tenderloins With Fresh Peach Barbecue Sauce
by
, October 7, 2017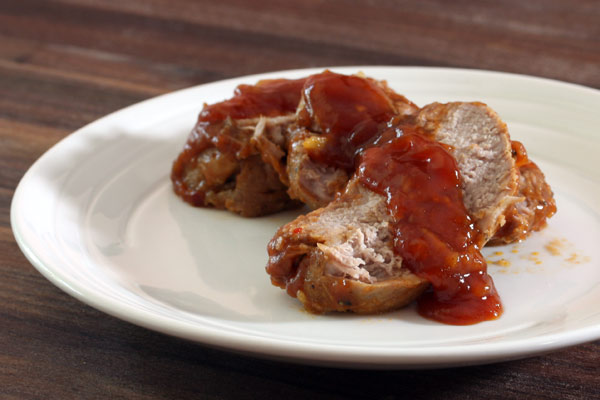 A homemade fresh peach barbecue sauce elevates the roasted pork tenderloins in this recipe. The pork is glazed and then served with extra sauce. It's a tasty meal to serve any night of the week. Serve the pork with baked potatoes or rice.
Related:
Roasted Pork Tenderloin With Jalapeno Pepper Glaze
Prep Time: 15 minutes
Cook Time: 35 minutes
Total Time: 50 minutes
Ingredients:
Peach Barbecue Sauce
Pork Tenderloins
1 1/2 to 2 pounds pork tenderloins
Seasoned salt and freshly ground black pepper
1 1/2 tablespoons olive oil
Instructions:
Peel and pit the peaches. Dice or slice them.
In a medium saucepan, combine the peaches, ketchup, syrup or molasses, Worcestershire sauce, vinegar, mustard, brown sugar, cayenne, and cinnamon. Whisk or stir to blend. Place the pan over medium heat and bring to a simmer. Reduce heat to medium-low and continue simmering for 5 to 7 minutes. Blend lightly with an immersion blender or electric blender or mash by hand.
You should have about 2 to 2 1/2 cups of barbecue sauce.
Heat oven to 350 F.
Pat the tenderloins with paper towels to dry. Remove excess fat and silver skin.
Lightly sprinkle the tenderloins all over with seasoned salt and pepper.
Heat olive oil in a large skillet over medium-high heat. Sear the tenderloins on all sides -- about 8 minutes total.
Transfer the tenderloins to a foil-lined baking pan. Cover with about half of the peach barbecue sauce and then cover the pan with foil. Refrigerate the remaining barbecue sauce until serving time. Transfer to the oven and bake for about 20 minutes (or longer, depending on thickness of the tenderloins), or until an instant-read thermometer or meat thermometer registers at least 145 F when inserted into the thickest part of a tenderloin.
Warm the remaining peach barbecue sauce and serve it with the pork.
Makes 6 servings.
Site Search