Roasted Pork Tenderloin With Jalapeno Pepper Glaze
by
, October 7, 2017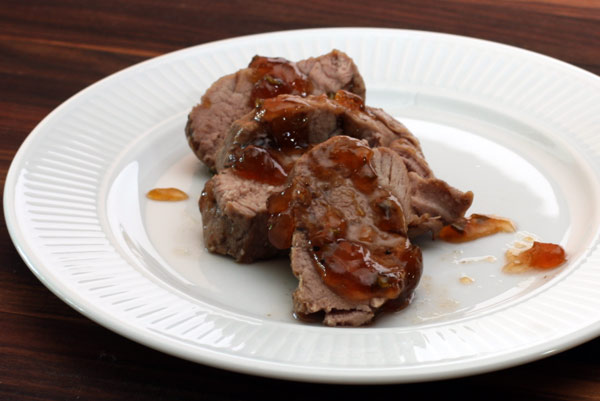 A minced jalapeno pepper and apricot preserves team up to make the simple glaze for this pork tenderloin. The pork is seared and then roasted to perfection.
Related:
Bourbon Glazed Pork Tenderloin
Honey Mustard Pork Tenderloin
Prep Time: 15 minutes
Cook Time: 30 minutes
Total Time: 45 minutes
Ingredients:
Instructions:
Heat oven to 350 F.
Line a baking pan with foil.
Remove the silver skin and any excess fat from the tenderloins. Pat dry with paper towels. Sprinkle evenly with kosher salt, pepper, garlic powder, and onion powder.
Heat the olive oil in a large skillet over medium-high heat. Sear on all sides -- about 8 to 10 minutes total time.
Meanwhile, combine the preserves and jalapeno in a small saucepan. Bring to a simmer. Cook for about 1 minute, stirring constantly. Put about half of the glaze in a small bowl and set aside.
Roast the pork tenderloins for 10 minutes. Brush with the remaining half of the glaze mixture and then roast for 5 to 10 minutes longer, depending on the thickness of the tenderloins. An instant-read thermometer or meat thermometer should register at least 145 F when inserted in the thickest part of a tenderloin.
Warm the remaining sauce mixture and spoon over the pork before serving.
Makes 4 to 6 servings.
Tips and Variations
Replace the apricot preserves with pineapple or peach preserves.
Use canned chopped jalapeno peppers.
Site Search