Easy Pork Cutlets With Tomatoes and Mushrooms
by
, October 13, 2017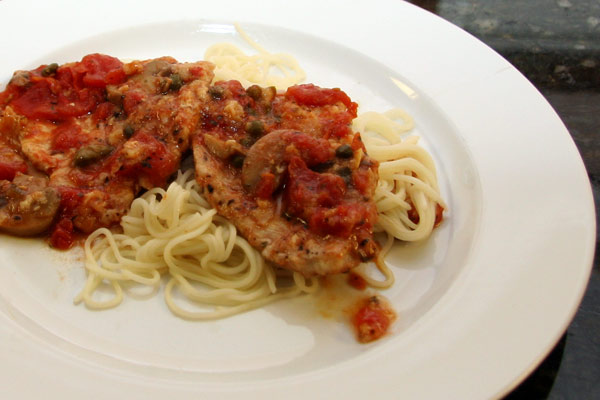 An easy tomato-based sauce flavors these quick-cooking pork cutlets. Add some capers to the sauce for extra flavor or leave them out. Mushrooms, onions, and garlic make it a hearty dish full of flavor and texture.
Related:
Pork Marengo
Prep Time: 15 minutes
Cook Time: 20 minutes
Total Time: 35 minutes
Ingredients:
Instructions:
Pound the pork cutlets (or boneless pork chops) gently with a meat mallet to about 1/4-inch thickness.
In a bowl, combine the flour, salt, and pepper; dredge the pork in the flour mixture to coat thoroughly.
Heat the olive oil in a large skillet over medium heat; brown the cutlets for about 3 minutes on each side. Remove the meat to a plate.
To the skillet add the butter, onion, and mushrooms; cook until the onions are translucent and mushrooms are tender. Add the garlic, cooked pork cutlets, tomatoes, chicken broth, parsley, and capers.
Simmer, uncovered, for 5 minutes. Cover and simmer for about 8 to 10 minutes longer, or until the pork is tender. Arrange pork over pasta or rice and top with the sauce.
Makes 4 servings.
Site Search