Pork Chops With Apples
by
, April 27, 2017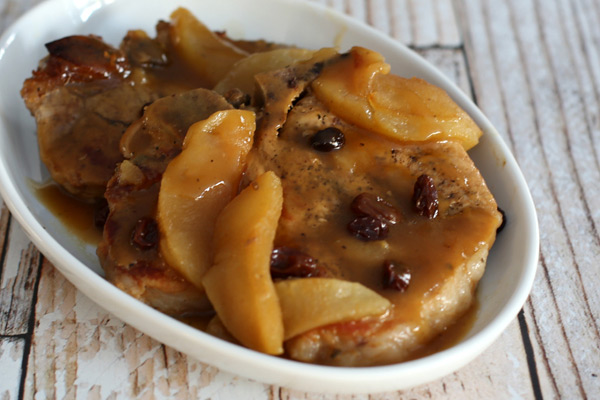 These pork chops are braised in the oven with apples and an easy sauce mixture.
Prep Time: 20 minutes
Cook Time: 1 hour
Total Time: 1 Hours 20 minutes
Ingredients:
Instructions:
Heat oven to 350 F.
Heat butter and oil in a large heavy skillet over medium heat.
Sprinkle pork chops with salt and pepper. Arrange the pork chops in the skillet and brown, turning to brown both sides.
Transfer pork chops to a large shallow baking dish. Peel the apples and slice thinly; arrange the slices over pork chops.
Drizzle the molasses over the pork chops and apples.
Sprinkle flour over the skillet drippings and cook over medium heat, stirring, for 2 to 3 minutes.
Slowly stir in the hot water; cook until bubbly. Add vinegar, salt, and raisins.
Pour the sauce over the pork chops and apples.
Cover and bake for 1 hour.
6 Servings
Site Search