Salted Pistachio Brittle
by
, May 16, 2017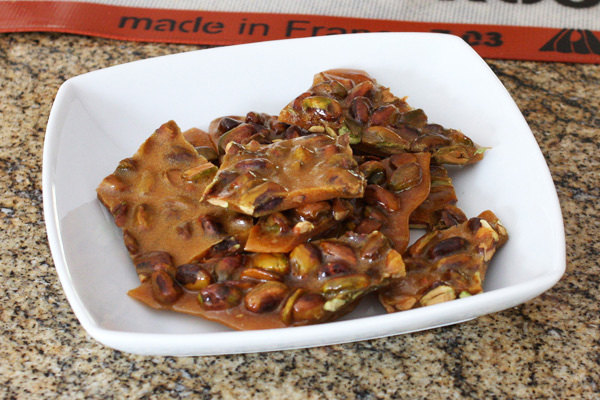 This buttery pistachio brittle is a sweet, crunchy, and salty treat. Eat it as a candy or crumble it and sprinkle over cupcakes or ice cream.
Prep Time: 15 minutes
Cook Time: 10 minutes
Total Time: 25 minutes
Ingredients:
Instructions:
Generously butter a large rimmed baking sheet.
In a small bowl, combine the vanilla and baking soda; set aside.
In a deep, heavy saucepan, combine the butter, water, sugar, and corn syrup. Attach a candy thermometer to the pan. Cook over medium heat, stirring frequently, until the sugar is dissolved and the mixture reaches 280 F. Add the salt and pistachios (the temperature will go down temporarily) and continue cooking, stirring constantly, until the mixture reaches 300 F.
Immediately remove the mixture from the heat and stir in the baking soda and vanilla mixture. Pour out onto the buttered baking sheet or silicone baking mat. Spread, if necessary and sprinkle with coarse sea salt.
The brittle should set in about 10 to 20 minutes.
Break the brittle up into smaller pieces. Store at room temperature in an airtight container, separated by pieces of parchment or wax paper. The brittle should keep for up to 1 month.
Makes about 1 1/2 pounds, about 30 servings.
Site Search