Pinto Bean Soup Wtih Spicy Sausage
by
, May 13, 2017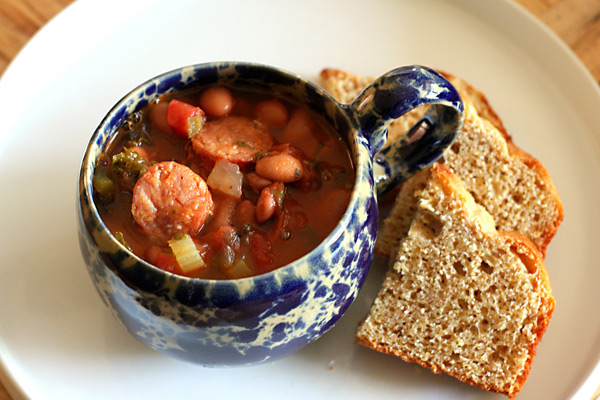 Make this soup as mild or spicy as you like it with andouille sausage and Creole seasonings. It's an easy soup to fix and takes less than 30 minutes to cook.
Prep Time: 15 minutes
Cook Time: 25 minutes
Total Time: 40 minutes
Ingredients:
Instructions:
In a large saucepan, heat the vegetable oil over medium heat. Add the sliced sausage, onion, and celery and saute for about 5 minutes, stirring frequently. Add the bell pepper and continue cooking, stirring, for 3 or 4 minutes longer. Add the diced tomatoes, seasoning blend, salt and pepper, and chicken broth. Add the drained pinto beans. Bring to a boil; reduce heat, cover, and simmer for 15 minutes.
Add the green onions and a 3 tablespoons of the parsley and continue cooking for 2 minutes longer.
Garnish with the remaining parsley.
Makes 6 Servings
Site Search