Homemade Pigs in a Blanket
by
, April 13, 2017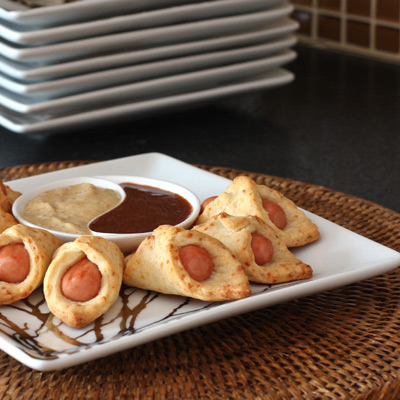 What sets this version apart from the crescent roll hot dogs is the homemade biscuit dough. The little hot dogs are wrapped in a completely homemade cheese biscuit dough. Make them with cocktail sausages or wrap hot dogs cut into thirds.
Prep Time: 15 minutes
Cook Time: 13 minutes
Total Time: 28 minutes
Ingredients:
Instructions:
In a bowl, combine the flour, salt, baking powder, baking soda and cayenne pepper.
Cut in butter with a pastry blender until well blended and the texture of meal(or pulse food processor).
Stir in the sour cream and cheese until well blended.
Divide the dough into two parts and shape into flattened disks. Wrap the dough in plastic wrap and chill for about 30 minutes.
Heat oven to 400 F.
Line a baking sheet with parchment paper or spray with nonstick cooking spray.
Roll out one portion of the dough to a 1/8-inch thickness on a floured surface; cut into 2 1/2-inch squares with a cutter or by hand. Repeat with the remaining dough.
Lay a mini hot dog across a square of dough diagonally and bring two corners over and seal well by pinching, forming the "blanket."
Place the wrapped hot dog on the prepared baking sheet and repeat with remaining dough and hot dogs.
Bake in the preheated oven for about 12 to 14 minutes, until browned.
36 to 42 Appetizer Servings
Site Search