Pesto Stuffed Chicken Breasts
by
, July 17, 2017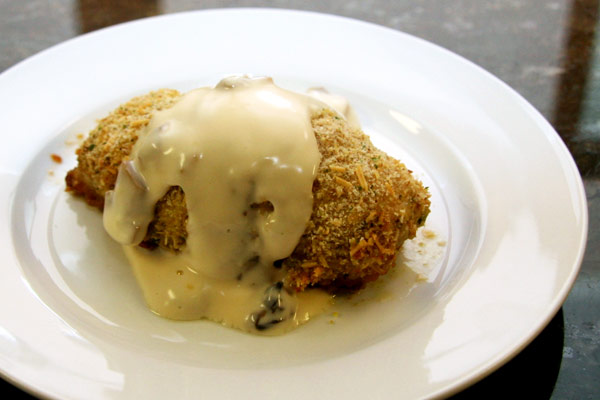 Prepared pesto makes an excellent filling for these stuffed chicken breasts. The chicken is rolled up with pesto and coated with a Parmesan bread crumb mixture. These are oven-fried, so they're relatively light. Use the homemade Mornay sauce or a prepared Alfredo sauce with the stuffed chicken rolls and serve them over pasta or rice. The chicken would be good with purchased gravy or cream of mushroom soup thinned with a small amount of milk.
Related:
Top 24 Easy Chicken Recipes
Tex-Mex Baked Chicken With Taco Seasoning
Prep Time: 10 minutes
Cook Time: 35 minutes
Total Time: 45 minutes
Ingredients:
Optional Mornay Sauce
Instructions:
Heat oven to 375 F.
Lightly oil a baking pan or spray with nonstick cooking spray.
Put the chicken, one piece at a time, in a food storage bag and pound gently with a meat mallet or other heavy object until about 1/4-inch thick. Repeat with all of the chicken breasts.
Beat the egg in a shallow bowl.
Combine the bread crumbs, shredded cheese, and parsley. Pulse a few times, until blended and somewhat fine.
Spread about 1 tablespoon of pesto on each chicken breast and roll up.
Dip the chicken rolls gently into the beaten egg to coat and then coat thoroughly with the bread crumb mixture.
Bake for 30 to 35 minutes, or until cooked through.
Meanwhile, make the sauce.
Melt the butter in a saucepan over medium heat. Add the flour and cook for 2 minutes, stirring constantly. Gradually add the milk and continue cooking until thickened, stirring frequently. Add the 1/3 cup of grated Parmesan cheese and 1/4 cup of Shredded Swiss cheese or Gruyere. Continue cooking until the cheese has melted; add salt and pepper to taste and a dash of nutmeg.
Spoon a few tablespoons of sauce over the chicken rolls before serving. Sprinkle with diced tomato if desired.
Makes 4 Servings
Site Search