Cornish Game Hens With Pesto
by
, October 2, 2017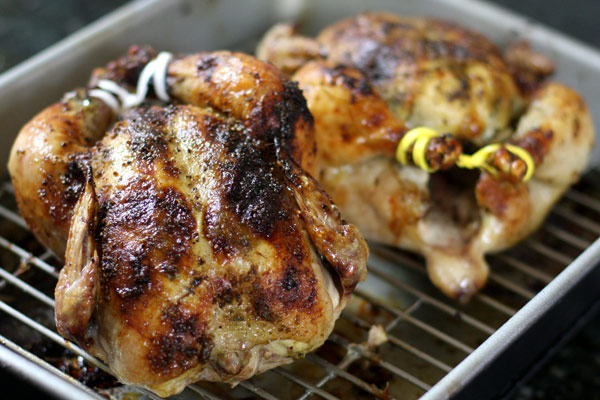 Prepared pesto goes under the skin of these game hens, providing wonderful basil and garlic flavor. Use purchased or homemade pesto in the recipe. One game hen weighs about 1 1/4 pounds, making it a good serving size for one person. If your game hens are larger or you are feeding small children, you might want to adjust the recipe. Scale the recipe down and make it with two hens for a lovely dinner for two.
Related:
Cornish Game Hens Roasted With Cilantro Butter
Roasted Whole Chicken With Maple-Rosemary Glaze
Prep Time: 15 minutes
Cook Time: 1 hour
Total Time: 1 hour 15 minutes
Ingredients:
Instructions:
Heat oven to 350 F.
Line a roasting pan with foil and place a rack in the pan.
Sprinkle the game hens with salt and pepper.
Place the Cornish game hens in the prepared pan, breast side up. Rub about 1 1/2 teaspoons of the pesto between the skin and breast on both sides of a hen, then rub about 1 teaspoon of pesto over the skin, along with about 1 teaspoon of olive oil. Repeat with remaining pesto and Cornish game hens.
Roast for about 1 hour, or until an instant-read thermometer reads at least 165 F in the thickest part of the meat.
Baste frequently with pan juices.
Serve with a rice pilaf or cauliflower rice and a side vegetable or tossed salad.
Makes 4 servings.
Site Search