3-Ingredient Crescent Pesto Pinwheels
by
, September 18, 2017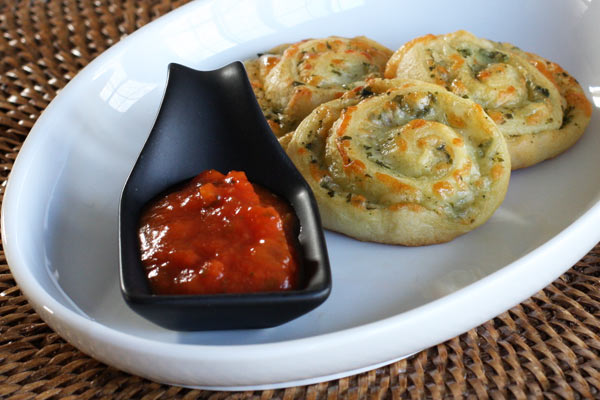 These easy crescent roll pinwheels are filled with a simple, flavorful mixture of prepared pesto and finely grated mozzarella cheese. Serve the pinwheels with warm marinara sauce for dipping. Feel free to scale the recipe up for a crowd.
Related:
Tortilla Roll-Ups
Prep Time: 10 minutes
Cook Time: 15 minutes
Total Time: 25 minutes
Ingredients:
Instructions:
Heat oven to 375 F.
Line a large baking sheet with parchment paper or spray it lightly with nonstick cooking spray.
Unroll the dough on a sheet of wax paper or parchment paper and press the perforations together.
Spread a thin layer of pesto over the dough to within about 1/4-inch of all edges. Sprinkle with the shredded mozzarella cheese.
Starting with the longest side, roll the rectangle up, jelly-roll style. Pinch the long seam to seal.
With a sharp knife, cut the roll into about 16 to 20 slices.
Arrange the slices, cut side down, on the prepared baking sheet.
Bake for 10 to 15 minutes, or until the pastry is golden brown.
Serve warm with hot marinara sauce.
Makes 8 servings.
Site Search