Semi Homemade Brownies With Penuche Frosting
by
, May 13, 2017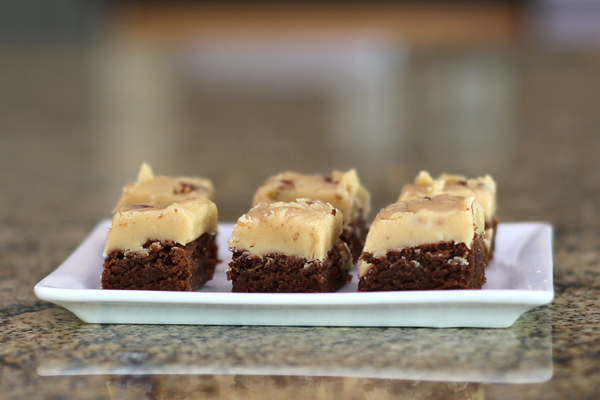 The brown sugar penuche frosting elevates these easy brownies. The brownies come from a mix, but you'd never guess.
Prep Time: 15 minutes
Cook Time: 30 minutes
Total Time: 45 minutes
Ingredients:
Instructions:
Bake the brownies in a greased and floured 9-by-13-by-2-inch baking pan following the package directions. Transfer to a rack to cool completely.
Put the chopped pecans in a dry skillet over medium heat. Cook, stirring and turning, until the pecans are lightly brown and aromatic.
In a medium saucepan, combine the evaporated milk or cream, butter, and brown sugar. Cook over medium heat, stirring, until the mixture comes to a boil. Continue boiling, stirring constantly, for 1 full minute. Remove from the heat and stir in the pecans, confectioners sugar, and vanilla. Let the mixture cool for 5 minutes, stirring about once every minute.
Spread the frosting over the completely cooled brownies. Let stand for about 45 minutes, or until the frosting is set.
Cut the brownies into squares or bars.
Makes About 24 Servings
Site Search