Penne Pasta With Sausage, Cheese, and Spinach
by
, September 21, 2017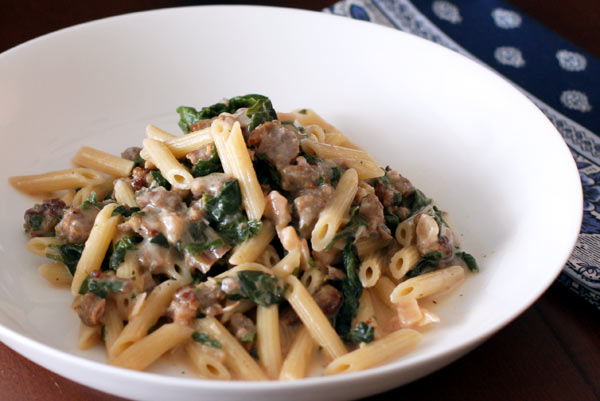 Cheese, sage, Italian sausage, and spinach make this a flavorful and earthy pasta dish. Feel free to use fresh chopped spinach or chard in the dish. Mushrooms would be an excellent addition as well. Add some along with the onions if you like. Fontina cheese would be excellent in this dish as well.
Related:
Instant Pot Macaroni and Cheese
Tuscan Pasta With Italian Sausage, Sun Dried Tomatoes, and Parmesan Cream
Prep Time: 14 minutes
Cook Time: 16 minutes
Total Time: 30 minutes
Ingredients:
Instructions:
Put the spinach in a colander and squeeze out as much excess moisture as possible. Set aside.
Cook the penne pasta in boiling salted water following the package directions; drain.
Meanwhile, crumble the sausage in a large skillet over medium heat; cook for about 5 minutes, stirring constantly. Add the onion and continue cooking until onion is softened. Add the garlic, sage, and wine. Cook for 2 minutes longer, stirring constantly. Stir in the chicken stock and spinach. Cook, stirring, until the spinach has wilted.
Stir in the hot cooked penne pasta, cream, and shredded cheese. Heat through.
Add salt and pepper, to taste.
Spoon into a serving dish and top with more shredded cheese or grated Parmesan cheese.
Makes 6 servings.
Site Search