Fresh Poached Peaches With Raspberry Sauce
by
, July 11, 2017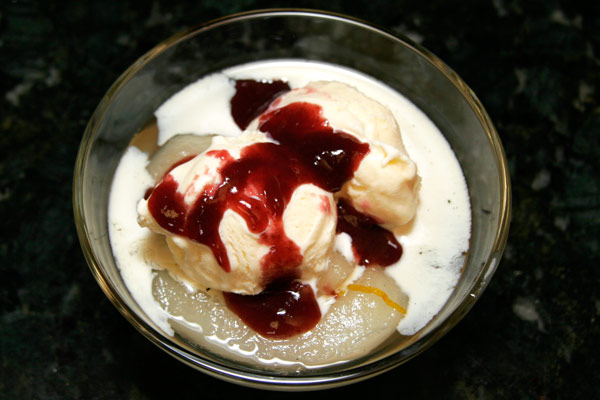 These poached peaches are served with a fabulous raspberry sauce. The sauce is made with seedless raspberry jam. The peaches and sauce are wonderful with ice cream. Or serve the peaches and sauce over pancakes or pound cake. I made the recipe (pictured) with white peaches.
Prep Time: 12 minutes
Cook Time: 12 minutes
Total Time: 24 minutes
Ingredients:
Instructions:
Slice the peaches in half and scoop out the pits; scrape out any tough fibers. Slice each peach half into wedges. Toss the peaches in a bowl with the lemon juice; and set aside.
Combine sugar, water, vanilla bean, cinnamon stick pieces, and nectar in a large saucepan. Bring to a boil; reduce heat to medium and boil for 5 minutes. Add the peaches; cover and bring to a boil. Reduce heat to medium-low and simmer for 5 minutes. Remove cover and simmer for 2 minutes longer.
Arrange a few peach wedges in a bowl with a small amount of the juice. Top with a scoop or two of vanilla ice cream and then drizzle with the warm raspberry preserves.
The peaches may be served over pound cake or pancakes with the raspberry preserves sauce.
Makes 4 to 6 Servings
Site Search