Peach Barbecue Sauce
Updated July 1, 2017 by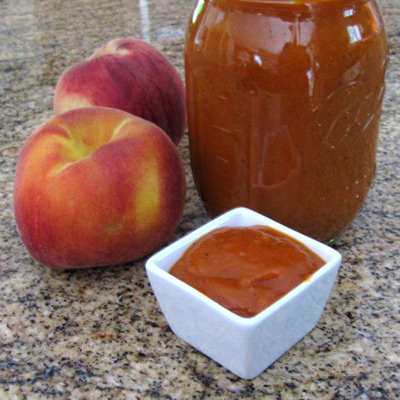 Juicy summer peaches add fruity flavor to this tasty barbecue sauce. Add some peach brandy if you like, or keep it alcohol-free. A chopped habanero pepper would make an excellent addition because it goes so well with fruit and spice. If you use a fresh chile pepper, omit the cayenne.
Prep Time: 15 minutes
Cook Time: 35 minutes
Total Time: 50 minutes
Ingredients:
Instructions:
Melt the butter in a medium saucepan over medium-low heat. Add the chopped onion and cook, stirring, until the onion is translucent. Add the chopped peaches and continue cooking, stirring, for about 2 minutes.
Stir the remaining ingredients into the peach mixture; reduce the heat to a low simmer. Partially cover the pan to avoid splattering.
Simmer the barbecue sauce mixture, stirring occasionally, for about 30 minutes.
Let the sauce cool slightly.
Pour the mixture into a blender and process until smooth.
Store in a covered container in the refrigerator for about 1 week.
Makes about 2 to 2 1/2 cups of barbecue sauce.
16 Servings
Site Search