Farfalle and Cheese Bake With Smoked Sausage
by
, May 8, 2017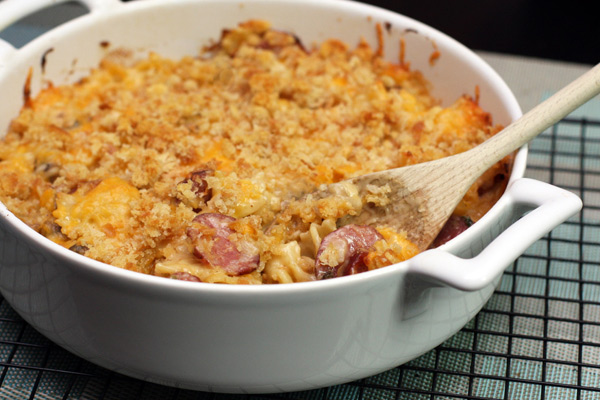 This pasta and cheese bake is flavored with spicy or mild smoked sausage. Use a sharp cheddar cheese or a cheddar jack blend.
Prep Time: 15 minutes
Cook Time: 25 minutes
Total Time: 40 minutes
Ingredients:
Instructions:
Heat the oven to 350 F.
Lightly grease a 2-quart baking dish.
Cook pasta in boiling salted water following package directions; drain and set aside.
In a medium saucepan, heat the olive oil over medium heat. Add the coarsely chopped mushrooms, onion, and sliced sausage and cook until onion is wilted and mushrooms are golden. Remove to a plate and set aside.
Add 2 tablespoons of butter to the pan and stir in the flour until smooth and bubbly. Add the Cajun seasoning, milk, and about half of the cheese. Cook, stirring, until cheese is melted. Add the sausage, mushrooms, and onion back to the sauce and stir in the drained pasta.
Spoon the pasta mixture into the prepared baking dish. Top with the remaining shredded cheese.
Melt the remaining 2 tablespoon of butter and toss with the bread crumbs. Sprinkle evenly over the casserole.
Bake for 20 to 25 minutes, until lightly browned and bubbly.
4 Servings
Site Search