Pasta With Asparagus and Ham
Updated July 1, 2017 by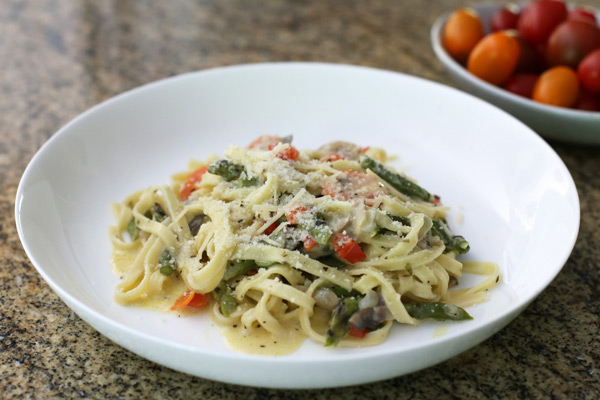 Use linguine, bucatini, perciatelli, or spaghetti in this delicious pasta dish. The simple Parmesan cheese sauce brings the dish together nicely. Serve it with a Caesar salad or tossed green salad. Substitute some diced cooked bacon for the ham if you'd like, or omit the ham for a vegetarian main dish.
Prep Time: 15 minutes
Cook Time: 25 minutes
Total Time: 50 minutes
Ingredients:
Instructions:
Snap off woody ends of asparagus and discard. Cut the asparagus spears into 1-inch pieces. Set aside.
Bring a large pot of water to a boil; add the pasta and 2 teaspoons of salt. Cook the pasta following the package directions for timing. Drain in a colander and set aside.
Melt the butter in a large skillet over medium heat. Add the onion and saute for 4 to 5 minutes, or until softened.
Add the garlic and continue cooking for 1 minute.
Add the asparagus to the onion and garlic mixture along with the ham and sliced mushrooms; cook for about 7 minutes, stirring frequently.
Add the chicken broth and basil; increase the heat to high and cook for 3 to 5 minutes, or until the liquid has reduced by about one-third.
Reduce the heat to medium-high and add the heavy cream and red bell pepper; cook for an 3 minutes longer.
Add the drained pasta, one cup of the Parmesan cheese, and the kosher salt and black pepper, to taste.
Reduce the heat to low and cook, stirring constantly, until well blended and hot.
Transfer the pasta to a serving bowl and sprinkle with additional Parmesan cheese.
Serves 4 to 6
Site Search