Parmesan Meatloaf With Pizza Toppings
by
, October 11, 2017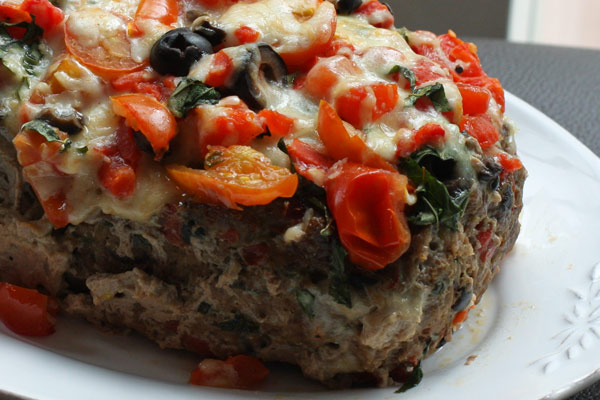 Parmesan cheese and chopped roasted red peppers are included in the meat mixture, and the pizza topping makes it look and taste extra-special.
Related:
Parmesan Meatloaf
Prep Time: 15 minutes
Cook Time: 1 hour 15 minutes
Total Time: 1 hours 30 minutes
Ingredients:
Instructions:
Heat oven to 350 F.
Spray a loaf pan with nonstick cooking spray or line the pan with foil.
Mix ground beef with the egg and bread crumbs.
Drain the roasted red bell peppers and reserve the liquid. Set the liquid aside.
Chop the drained peppers and reserve about 3 tablespoons for the topping. Add the chopped peppers to the meat mixture along with 1/4 cup of the reserved liquid.
Reserve 1 tablespoon of the ripe olives for topping and add the remaining ripe olives to the meat mixture.
Add 1 1/2 tablespoons of the chopped basil, the Parmesan cheese, and salt and pepper. Blend well and pack the mixture into the prepared loaf pan.
Meanwhile, combine the remaining roasted red peppers, the remaining 1/2 tablespoon of basil, the remaining 1 tablespoon of sliced olives, the mozzarella cheese, and the sliced tomatoes. Toss the mixture to blend and refrigerate until needed.
Bake the meatloaf for 1 hour and 5 minutes. Carefully drain off any excess grease; top with the mozzarella cheese mixture and bake for 15 minutes longer.
Makes 6 servings.
Site Search