Parmesan Meatloaf
by
, August 7, 2017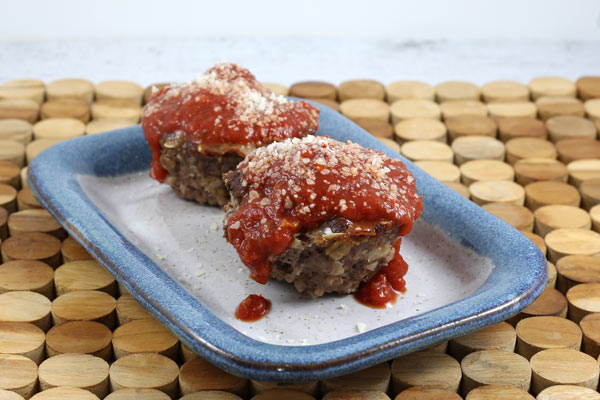 Shape this flavorful Italian meatloaf mixture into a freeform loaf or make meatloaf muffins. The meatloaf mixture is flavored with Parmesan cheese and Italian herbs and seasonings. The pictured meatloaf muffins are topped with pizza sauce and Parmesan cheese.
Prep Time: 15 minutes
Cook Time: 1 hour 15 minutes
Total Time: 1 hour 30 minutes
Ingredients:
Instructions:
Preheat the oven to 350 F.
Combine the ground beef, oats, onion, herbs, garlic powder, 1/2 cup of Parmesan cheese, salt, and pepper. Add the beaten eggs and 1/2 cup of marinara or pizza sauce. Mix well to blend and then pack the mixture into a 9-by-5-by-3-inch loaf pan or into 10 to 12 muffin cups.
Bake the meatloaf for about 1 1/4 hours, or until it reaches 165 F on an instant-read thermometer inserted into the center. For meatloaf muffins, check for temperature after about 30 to 40 minutes.
If desired, spread more marinara or pizza sauce over the top of the loaf or muffins and bake for about 5 minutes longer. Or heat extra mariara or pizza sauce and serve it along with the meatloaf.
Sprinkle with extra Parmesan just before serving
Makes 1 loaf or about 10 to 12 meatloaf muffins.
Makes 6 to 8 Servings
Site Search