Parmesan and Garlic Seasoned Croutons
by
, May 11, 2017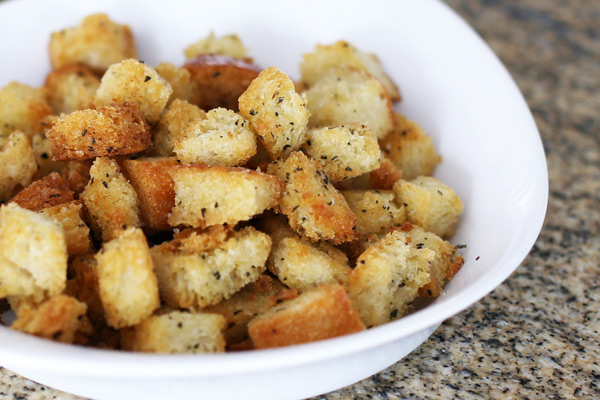 These seasoned croutons are perfect for topping a Caesar salad or a creamy soup. The croutons are super easy to make with plain white bread, garlic, butter, and Parmesan cheese. Add chopped fresh parsley or use a combination of herbs, depending on how you'll be using them.
Prep Time: 10 minutes
Cook Time: 25 minutes
Total Time: 35 minutes
Ingredients:
Instructions:
Preheat the oven to 300 F.
Line a baking sheet with foil and lightly brush with oil or spray with nonstick cooking spray.
Melt the butter in a skillet or saucepan over medium heat; stir in the parsley and garlic. Remove from heat and add the Parmesan cheese.
Toss the bread cubes in the butter mixture until the cubes are well coated. Arrange the bread cubes on the prepared baking sheet and bake for about 25 to 30 minutes, or until browned.
Store in a tightly covered container or food storage bag.
Serve the croutons over salads or soups.
Makes About 5 Cups
Site Search