Paprika Chicken With Sour Cream
by
, July 3, 2017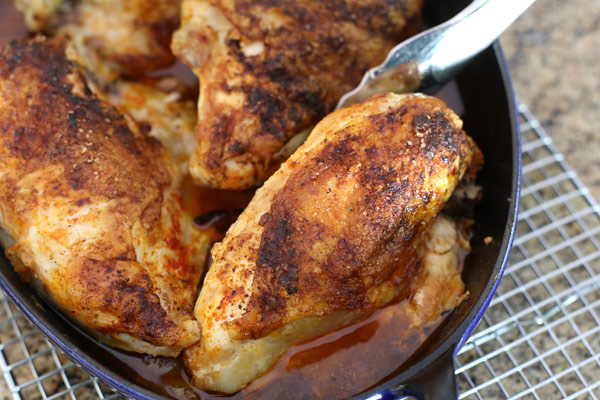 This paprika chicken is browned, simmered, and then served with a simple sour cream sauce. If you have half of a carton of sour cream in the fridge, this is an excellent use.
Related:
Tex-Mex Baked Chicken With Taco Seasoning
Top 24 Easy Chicken Recipes
Prep Time: 15 minutes
Cook Time: 55 minutes
Total Time: 1 hour 10 minutes
Ingredients:
Instructions:
Pat the chicken dry and spinkle lightly with salt and pepper.
Heat the olive oil and butter in a large skillet over medium heat. Add the chicken pieces and cook for 8 to 10 minutes, turning to brown all sides. Remove the chicken to a plate and set aside.
Leave 2 tablespoons of the drippings in the skillet. Cook onion and sweet bell pepper in the remaining drippings until tender, about 2 to 3 minutes. Blend in the paprika. Add chicken broth to skillet; return chicken to skillet. Cover and simmer chicken for 35 to 45 minutes, or until chicken is tender and juices run clear.
With a slotted spoon, remove the chicken and vegetables to a hot platter; keep warm.
Strain the liquids in skillet; skim off excess fat.
Blend flour and sour cream together; stir into strained liquid. Cook, whisking, until smooth and thickened. Season with salt and pepper; pour over chicken.
Makes 6 Servings
Site Search