Oven-Fried Tilapia Fillets
Updated July 1, 2017 by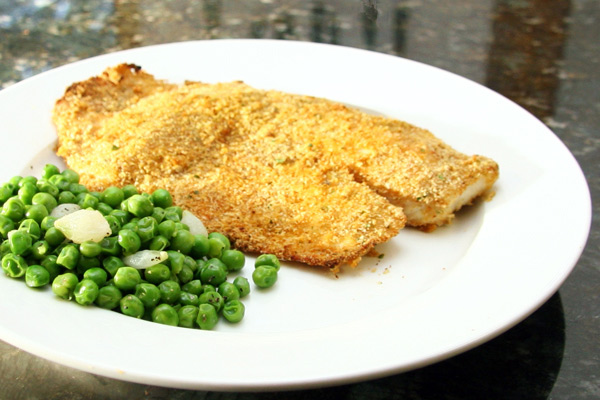 Parmesan seasoned bread crumbs flavor these easy oven-fried fish fillets. Light mayonnaise may be used in the coating mix if you like.
Prep Time: 10 minutes
Cook Time: 20 minutes
Total Time: 30 minutes
Ingredients:
Instructions:
Heat oven to 400 F.
Line a baking sheet with nonstick foil and spray it with nonstick cooking spray.
In a bowl, combine the egg, water, mayonnaise, and Creole or Dijon mustard; whisk to blend.
In a wide, shallow bowl, combine the bread crumbs with the paprika; stir to blend thoroughly.
Dip the tilapia fillets in the egg mixture to coat and then in the bread crumb mixture, turning to coat both sides.
Arrange the coated fillets on the prepared baking sheet. Spray the fillets lightly with more nonstick cooking spray.
Bake the tilapia fillets for about 10 minutes; turn and continue baking for 8 to 10 minutes longer, or until fish is cooked through. The time depends on thickness of the fillets. The fish will be opaque and will flake easily with a fork when done.
With a spatula, gently remove the fillets to a serving platter or individual plates.
4 Servings
Site Search