Crispy Oven-Fried Drumsticks
by
, March 28, 2017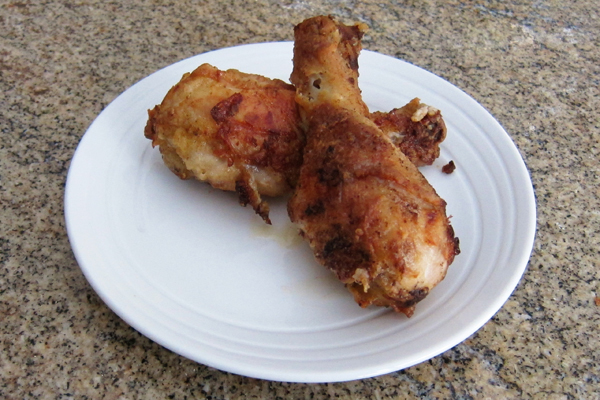 This crispy buttermilk chicken is actually baked, not fried! The seasoned coated chicken starts in a hot pan. I used chicken drumsticks, but whole legs may be used as well.
Related:
Top 24 Easy Chicken Recipes
Easy Spiced Oven-Fried Chicken
Prep Time: 10 minutes
Cook Time: 50 minutes
Total Time: 1 hour
Ingredients:
Instructions:
Put the chicken pieces in a large zip-close food storage bag. Add the buttermilk and hot sauce to the bag. Squeeze and turn the bag to coat the chicken thoroughly. Seal the bag and refrigerate for 4 hours, turning occasionally.
Heat the oven to 450 F. Line a 9-by-13-by-2-inch baking pan with heavy duty foil. Place the butter in the pan and place it in the oven until the butter has melted.
Combine the flour and seasonings in a bowl or another food storage bag; stir or shake the bag to blend.
Coat the chicken drumsticks with the flour mixture and arrange them in the malted butter.
Bake the drumsticks in the preheated oven for 30 minutes.
Turn the chicken pieces and continue baking for about 20 to 30 minutes longer, or until the chicken is tender and golden brown.
4 to 6 Servings
Site Search