Orecchiette With Spinach, Cream, and Parmesan Cheese
by
, November 05, 2017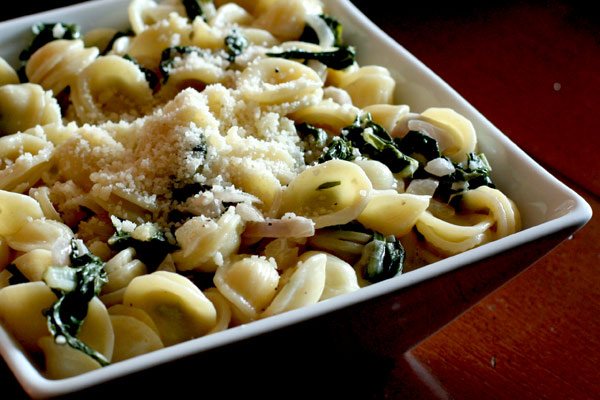 Fresh chopped spinach, heavy cream, and Parmesan cheese make this orecchiette a tasty vegetarian main dish. Or serve it as a side dish instead of mac and cheese.
Related:
Orecchiette Pasta With Ham and Peas
Prep Time: 10 minutes
Cook Time: 16 minutes
Total Time: 26 minutes
Ingredients:
Instructions:
Cook the orecchiette as directed on the package. Drain and set aside.
Heat the olive oil and 1 tablespoon of butter in a large skillet over medium heat. Add the chopped onion and cook, stirring, until onion is translucent. Add the minced garlic and cook for 1 minute longer. Add the chicken broth and chopped spinach. Cook, stirring, until the spinach is wilted and the liquids are reduced by about half.
Add the heavy cream to the spinach mixture. Add the cooked pasta, the remaining tablespoon of butter, and Parmesan cheese. Toss to coat the pasta; taste and adjust seasonings, as needed. Continue cooking until hot.
Transfer to a serving dish and garnish with more Parmesan cheese.
Makes 4 servings.
Site Search